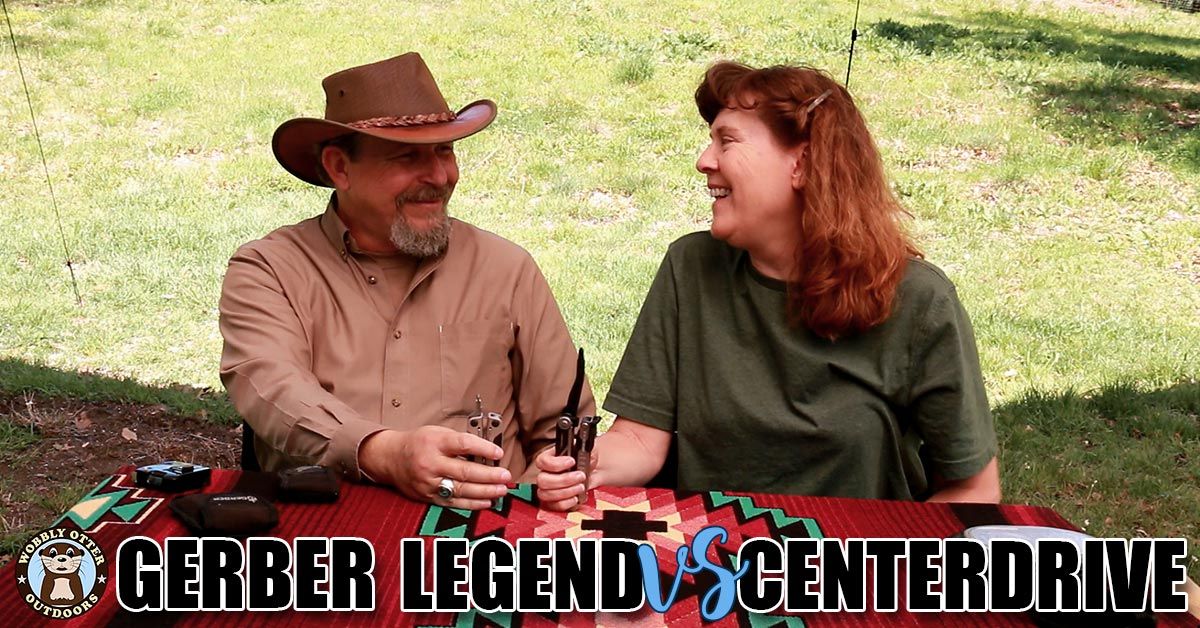 A review and comparison of two Gerber multi-tools: the MP800 Legend and the Center Drive. Cris reviews her Gerber Center Drive. Bill reviews his MP800 Gerber Legend. Then we put the tools side-by-side for comparison.
Choosing a multi-tool is a matter of personal preference and needs. There are so many choices. In the video below, we look forward to hearing what multi-tool you are using and why you chose it.
Thank you for watching. We hope you'll subscribe to get the best Wobbly Otter adventures, how to's, and gear reviews delivered directly to you.
Gerber MP800 Legend
Bill carries the Legend in his pack, so it's always handy to be used.

His previous Legend tool lasted 15 years before he broke it. There is a piece of metal on the inside of the handle that takes all the weight and force of the pliers when used - and also flexes every time the pliers are opened and closed. After 15 years, that broke. He shipped the tool to Gerber, and they sent a brand new Legend to him.
A wonderful feature of the Legend is the replaceable universal jigsaw blade. Well, not the blade exactly, but the fact that the tool has a universal shank that holds the blade. Because of this, any blade with that universal attachment hole will fit into the tool.

The Phillips screwdriver doubles use as a tool tip holder. There is a bit set kit (sold separately) that contains a tool adapter that turns the Phillips screwdriver into a drive for standard 1/4" bits. It's a nice little set.

Bill says, "I really like this tool, or I wouldn't have kept it around for almost 20 years."
Gerber Legend on Amazon: https://amzn.to/2EaKR70
Gerber MP800 Legend Specifications
12 tools: wire cutter, knife, scissors, bottle opener, hacksaw, 1 Phillips and 3 standard screwdrivers (small, medium, large)
Weight: 8.8 oz (249.5 grams)
Length, pliers open: 6.57" (167 mm)
Length, closed: 4.29" (109mm)
Full knife blade length: 2.75" (70 mm)
Length knife cutting edge only: 2.5" (63.5 mm)
Tungsten carbide-steel blades
Stainless steel, nickel-coated aluminum handle
Nylon belt-mounted carrying case
Gerber Center Drive
I carry the Gerber Center Drive with me most everywhere. It stays in my purse for everyday use. It goes with me during camping trips too.

Why I Selected the Gerber Center Drive

I chose the Gerber Center Drive because it isn't overloaded with tools. When a multitool is packed full of tools that fold out, I have trouble opening some of them because they are packed so tightly. I didn't want a bunch of tools that I would never use. The Center Drive has seven tools.

I wanted a strong multitool. There are some smaller multitools. When compared to the Center Drive, the smaller, lighter ones seemed less durable.

I love the long driver on the tool - the center drive. Its long reach and the centering makes the tool so easy to use as a screwdriver or other driving tool. The driver uses standard 1/4" bits. This is incredibly important to me. If I lose a bit, it's easy to go to the hardware store and get a replacement.

I like how the pliers slide out and that they are spring loaded. The spring makes them easier for me to use.

There are two knife blades included. The longer one is on the outside of the tool and easy to access. It is quite large when compared to other multitools. While this wasn't a selling point for me, it's awesome to have.

The button and levers are big and easily accessible. I never worry about pinching my fingers when using this tool.

Being able to purchase a kit that comes with the 12-piece tool set (standard 1/4" bits) makes this the perfect go-anywhere tool for me.
Gerber Center Drive on Amazon: https://amzn.to/2uCOJy7
Gerber Center Drive Specifications
Closed Length: 4.7"
Open Length: 6.6"
Weight: 9.5 oz (says Gerber) [9.9 oz, 281 grams, on our scale]
One-thumb opening system
Spring-loaded needlenose pliers w/ X-Channel rail system
Rotatable carbide wire cutters & strippers
Full-size 3.25" 420HC fine edge blade [sharpened part is 3" long by our measurement]
Magnetic 3.2" Center-Axis bit driver
Pry bar w/ nail puller & bottle opener
Serrated blade, Awl, File
Magnetic flathead and Phillips bits
Lanyard hole
Fabric sheath included
Limited lifetime warranty
Tool Made in USA - Sheath made in China
12-piece bit set available in kit
Disclosure: Some of the product links above are affiliate links, and at no additional cost to you, we may earn a small commission if you make a purchase after clicking through the link. By using these links you help support Wobbly Otter Outdoors. Thank you.
If you'd like to support Wobbly Otter Outdoors all you have to do is watch our videos. Okay, here are some other ways to support us too.