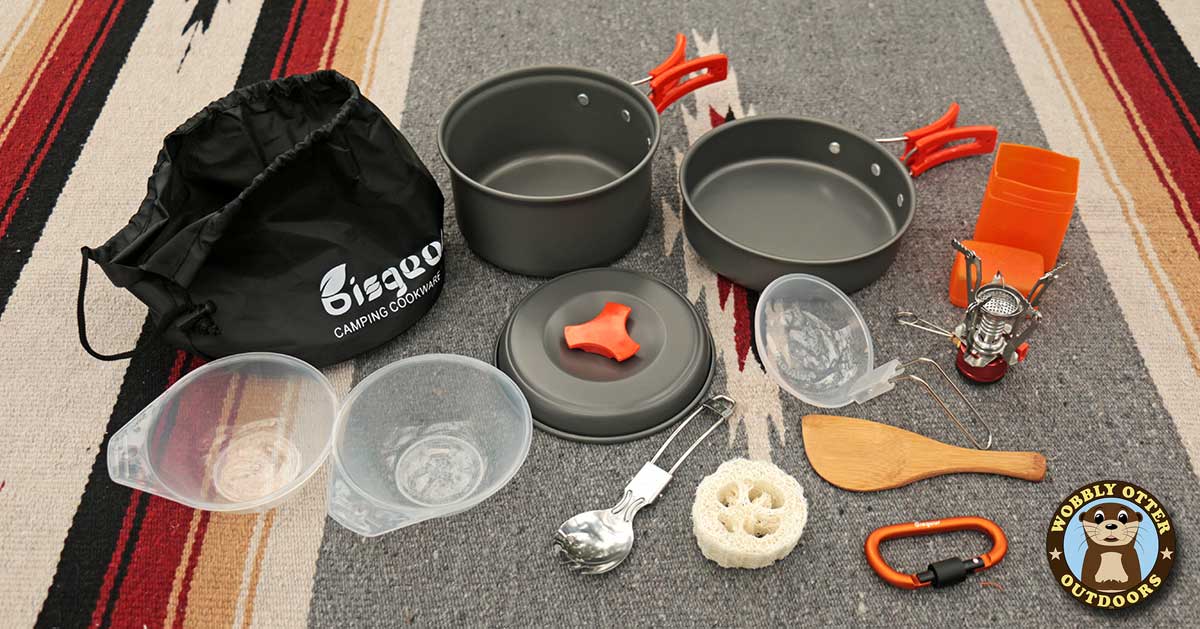 The folks at Bisgear asked us if we would review one of their camping cookware sets. We said, "Yes!" They shipped the one of our choosing to us straight away.
In this video about the Bisgear Camping Cookware Set I, (1) unbox and review the set; (2) see how much water the pot, pan and one of the bowls hold; (3) use the set to cook scrambled eggs; and (4) have a quick look at how to pack the set again.
This is a small cookset designed to be everything needed for backpacking. The pot, its lid and the pan are made of anodized aluminum giving them non-stick surfaces.
Thank you for watching. Subscribe to get the best Wobbly Otter adventures, how to's, and gear reviews delivered directly to you!
Included In the Kit I Received
anodized aluminum pot with lid
anodized aluminum pan
2 plastic bowls
mini burner with piezo igniter (and plastic case)
folding stainless steel spork
plastic ladel with folding metal handle
wooden spoon
loofah sponge
carabiner
nylon carrying bag.
Little Discrepancies
At the time of this writing... The product photos for this item on Amazon can be a little confusing. Some of the photos contain a folding metal spork, and also a folding metal fork, a spoon, and a knife. Only the folding metal spork was included in the kit I received. In some places the product description lists it as a 12 piece set and in other places a 16 piece set. I hope Bisgear removes the discrepencies so consumers receive what they expect.
Bisgear 12 piece Camping Cookware Set on Amazon: http://amzn.to/2fG4lJY
If you'd like to support Wobbly Otter Outdoors all you have to do is watch our videos. Okay, here are some other ways to support us too.
Disclosure: Some of the product links on this page are affiliate links, and at no additional cost to you, we may earn a small commission if you make a purchase after clicking through the link. By using these links you help support Wobbly Otter Outdoors. Thank you.