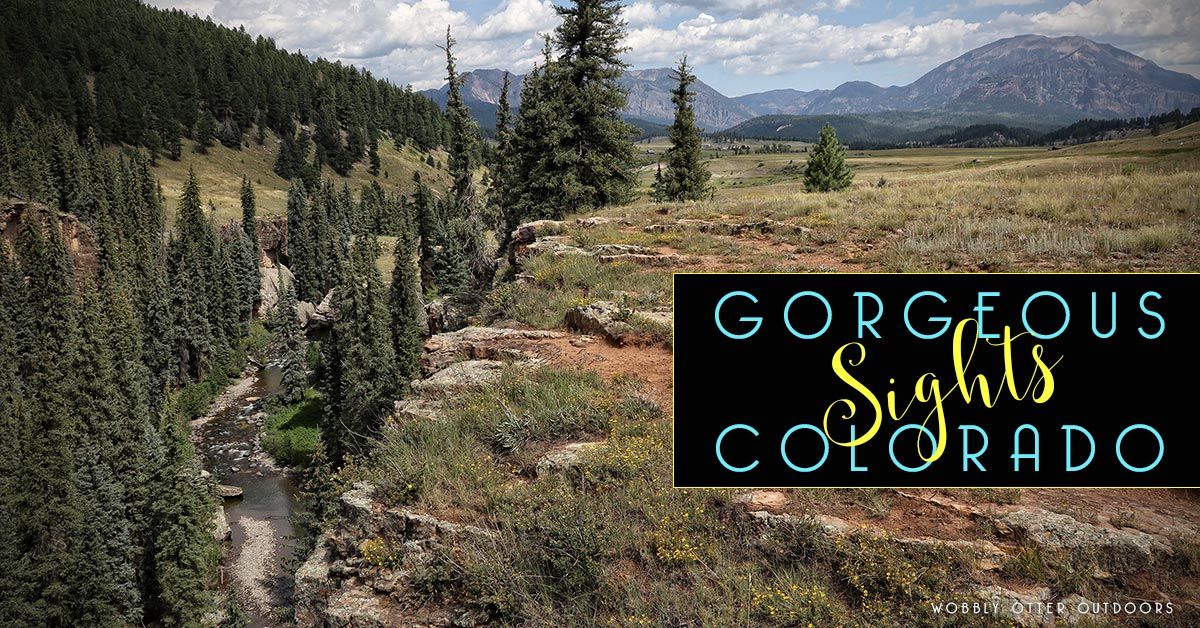 In this video, we're taking a look at some of the sights from our late summer trip to the San Juan National Forest in southwestern Colorado, as well as packing-up camp.
We enter from Pagosa Springs, which is south of San Juan National Forest. The views are breathtaking. It's all waiting for you to see it in the video below.
Thank you for watching. We hope you'll subscribe to get the best Wobbly Otter adventures, how to's, and gear reviews delivered directly to you.
Incredible Cliff
Just of the road on the way in is this incredible cliff (top picture of this article). The point of the cliff is just off Piedra Rd/631 near where the Piedra River and O'Neal Creek meet.
Piedra Falls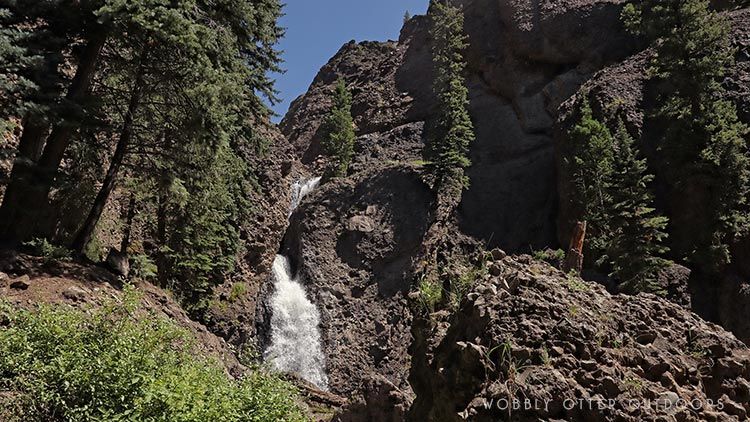 Piedra Falls (pictured above) is on the East Fork Piedra River in San Juan National Forest of Colorado. Piedra Falls Trail is a 1-mile round trip and has a 108-feet elevation gain. It is an easy hike along a well-defined trail. The elevation at the trailhead is 8,419 feet (2,566 meters) Dogs are allowed on the trail.
Piedra Falls tumbles down volcanic cliffs in two large steps.

Piedra Falls & Trail Links
All Trails: https://www.alltrails.com/trail/us/colorado/piedra-falls-trail
Visit Pagosa Springs: https://visitpagosasprings.com/pagosa-springs-waterfalls
Just Some Nice Sights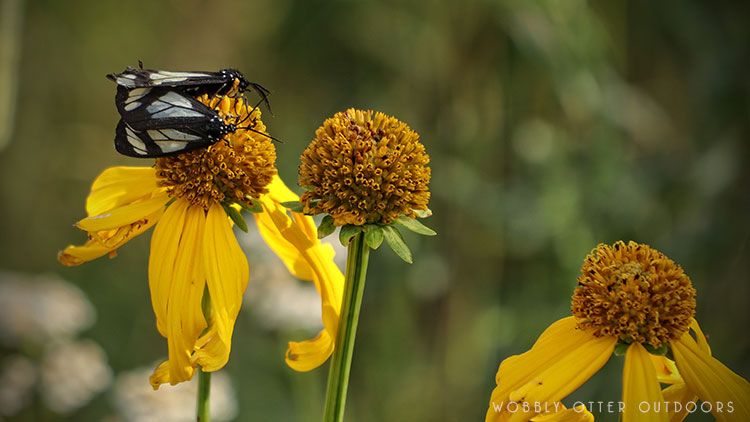 On a short drive from camp, we come across areas full of flowers. Where there are flowers, there are also bees, and ladybugs, and lots of police car moths (pictured above). It is our first experience with police car moths, and they are everywhere. Police car moths, Gnophaela vermiculata, are a type of tiger moth and are diurnal, which means they are active during the day.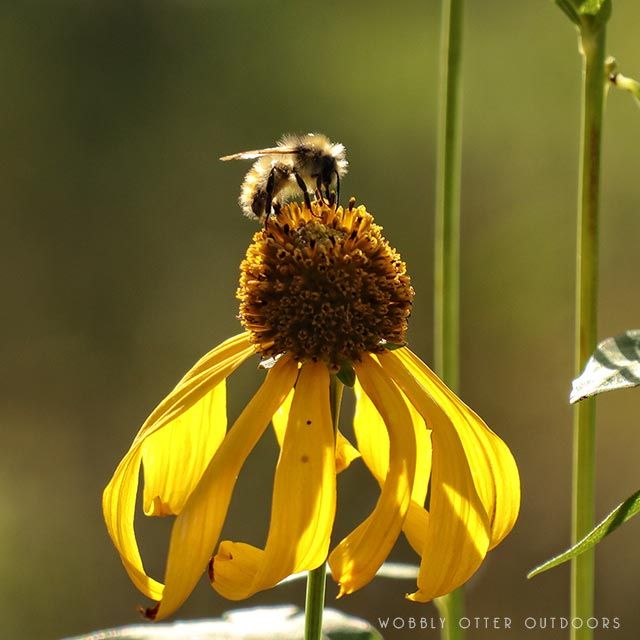 One of my favorite pictures is the little backlit bee (above) because you can see that he is mostly fuzz with a tiny bee body.
Pretty Sights Around Cimarrona Campground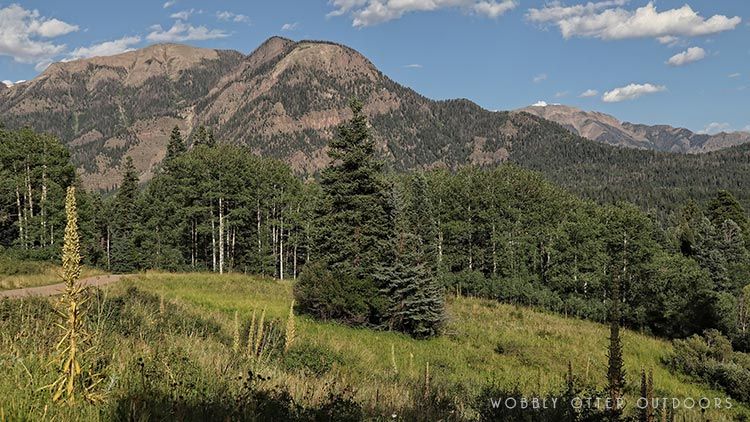 We camped in Cimarrona Campground at an elevation of 8,400 feet (2,560 meters). Nearby Cimarrona Peak (pictured above) stands at 12,037 feet (3,669 meters). The campground is along Cimarrona Creek.
At the end of the video, we're breaking camp and heading out. You get a very brief glimpse into our gear and our process of packing-up.
Kind Words by a Subscriber
One of the wonderful subscribers to our YouTube channel, had this to say about this video: "Beautiful scenery, great photography, wonderful music, outstanding production. ~ Paul S."
Gear Links
Here are links to some of our gear as seen in this video.
100-watt Renogy Solar Panel, 12-volt, folding, with case: https://amzn.to/32asE5B
Trasharoo: https://amzn.to/32c41FB
Privacy shelter by Browning: https://amzn.to/2WCPqC0
Kelty Noah's Tarp 12: https://amzn.to/2Ng0hyR
Kelty adjustable poles: https://amzn.to/2JJFWj4
Yakima Skybox 16 Carbonite Cargo Roof Box: https://amzn.to/2XccKcA
And this link will take you to the website of the company that made Poe, our Escapade Backcountry mini camper: https://www.escapadecampers.com/
If you'd like to support Wobbly Otter Outdoors, all you have to do is watch our videos. Okay, here are some other ways to support us too.
Note: Some of the product links on this page are affiliate links, and at no additional cost to you, we may earn a small commission if you make a purchase after clicking through the link. As an Amazon Associate, we earn from qualifying purchases. By using these links you help support Wobbly Otter Outdoors. Thank you.
For Pinterest Sharing