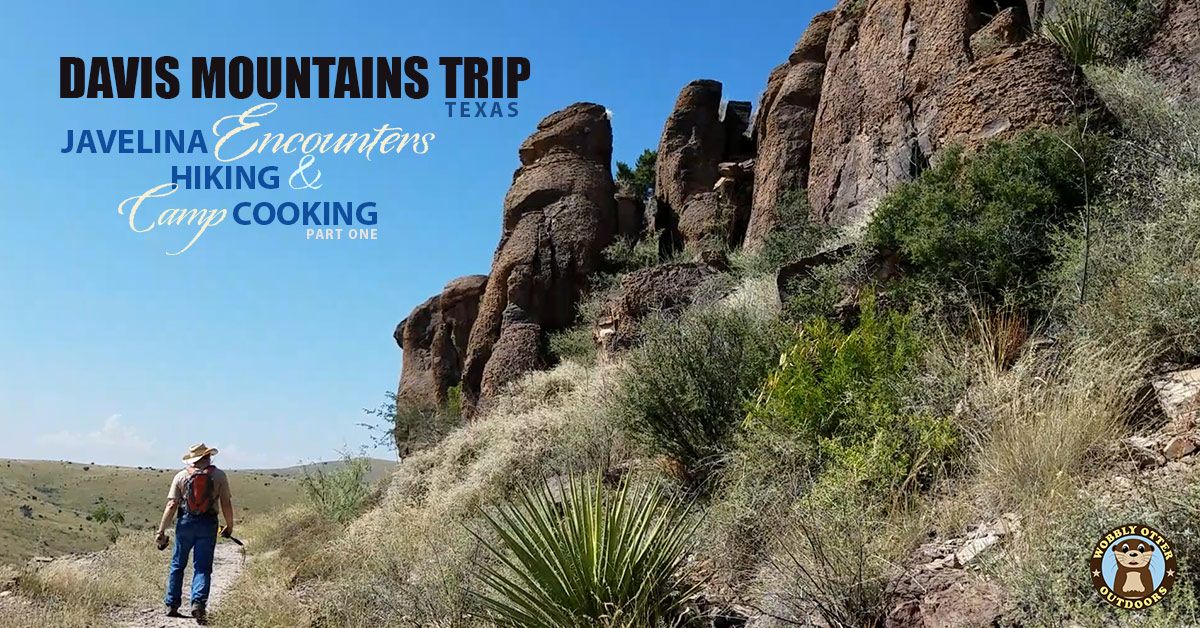 The beautiful and diverse Davis Mountains grace us with up-close views of javelina, excellent hiking and a pleasant spot to camp.
This is part one of our trip camping in Davis Mountains State Park.
Thank you for watching. We hope you'll subscribe to get the best Wobbly Otter adventures, how to's, and gear reviews delivered directly to you.
It's a little late in the day when we arrive at Davis Mountains State Park. Because of that supper is an efficient one: Mountain House Sweet and Sour Pork with rice. While dehydrated meals generally aren't as good as those made with fresh ingredients, the sweet and sour pork is easily one of the better ones.
I think my favorite dehydrated meal is Skillet Breakfast by Mountain House - especially when served in a warm flour tortilla. It has eggs, sausage, bell peppers and onions. Oh, it's so good. But I digress. Time to get back on topic.
Davis Mountains State Park has an elevation that ranges from 5,000 to 6,000 feet (1,524-1,825 meters). The temperature when we arrived was a pleasant 69 degrees F.
After dark, we hear rustling near camp and walk around to investigate. There are several javalina foraging for food.
The next morning during breakfast we see one adult javalina and a couple of smaller ones approaching and getting too close to a young lady who is trying to eat breakfast. It must smell really good to the pigs because they are very persistent. Her camp mates are away so she is all alone and obviously feeling uncomfortable by how many pigs there are and how close they are getting to her. We help her shoo them away and all is well.
Today is a day of hiking for us. Two of the first trails we follow are at the Davis Mountains State Park. One is the Old CCC Trail (1.75 miles; 2.81 km) and the other is the Skyline Drive Trail (4.5 miles; 7.24 km). The trail is clearly marked, and it is narrow. There is a wide variety of terrain to explore and some parts of the trail are a little steep. The views from the high vantage points are amazing, showing off mountains in the distance with plains in between.
Evening rolls around and it's time to prepare supper. On the menu tonight are: grilled pork chops, yellow fresh yellow squash and new potatoes. The potatoes and squash are each chopped up and put in their own foil packets with butter, salt and pepper. The pork chop is marinated in soy sauce.
We're not exactly why, but they put us in a handicapped campsite. There is lots of room and the top of the fire ring is a good three feet high. It is so convenient! Everything grills as hoped. It tastes extra wonderful 'cause we're extra hungry after all the hiking.
After breakfast the next morning we head out to the Madera Canyon Trail. It's a loop trail that's 2.4 miles (3.8 km) long. The maximum elevation fo the trail is 6,050 feet (1,844 meters).
Near the start of the trail is a small stream. The majority of the trail goes up on top of and along a rise. It's a good trail from hiking if it's sunny and warm because there are lots of small oak trees along the way providing shade.
Tonight's supper is at the Black Bear Restaurant in the Indian Lodge Hotel that is within the State Park. Thus ends part one of this trip. We hope you'll check back for part two.
Some of the Gear Used in this Video
BlueFire Heat Resistant Gloves: http://amzn.to/2BQcXE5
Kelty Noah's Tarp Shelter (12'): http://amzn.to/2BsJ1l8
Kelty Adjustable Pole: http://amzn.to/2iKclZa
Smittybilt 2788 Tent Annex: http://amzn.to/2BsJyDE
Smittybilt Overlander Roof Top Tent 2783: http://amzn.to/2BNuBbt
If you'd like to support Wobbly Otter Outdoors all you have to do is watch our videos. Okay, here are some other ways to support us too.
Disclosure: Some of the product links on this page are affiliate links, and at no additional cost to you, we may earn a small commission if you make a purchase after clicking through the link. By using these links you help support Wobbly Otter Outdoors. Thank you.