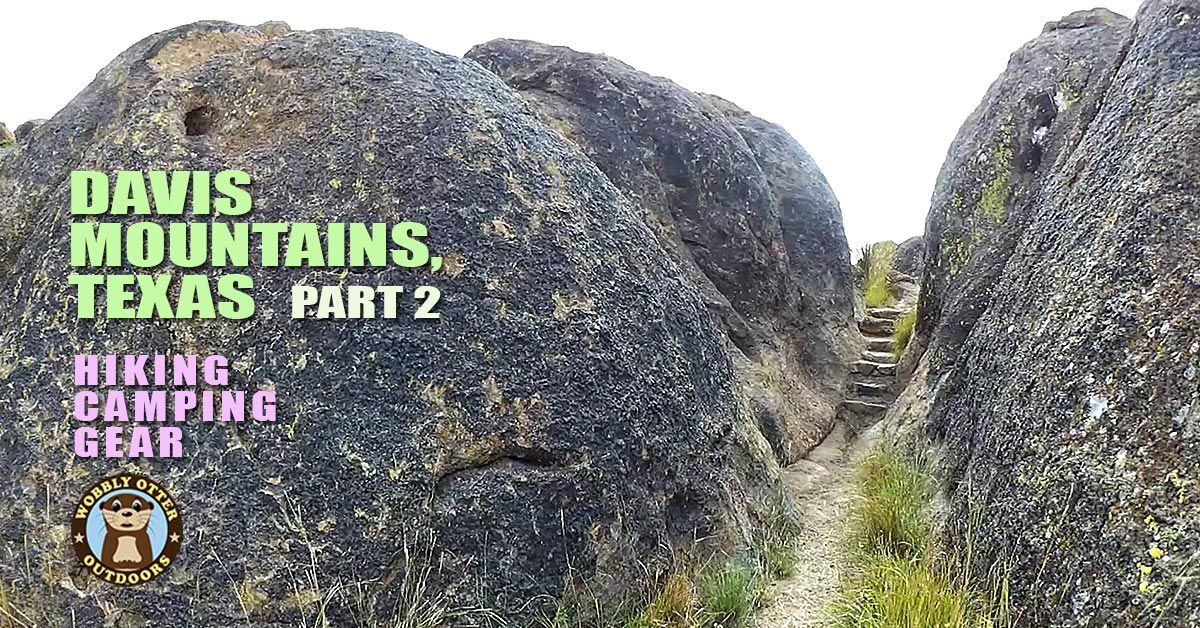 Join us to see the diverse and sometimes otherworldly terrain in the Davis Mountains of Texas.
This is part two of our trip camping in Davis Mountains State Park.
Thank you for watching. We hope you'll subscribe to get the best Wobbly Otter adventures, how to's, and gear reviews delivered directly to you.
In this video, we start by hiking the Modesta Canyon Trail at the Chihuahuan Desert Nature Center. This trail is 1.75 miles (2.8 km) long, and there is an interpretive guide for the trail available at the Visitor Center.
The trail terrain is rugged along the canyon itself. When you get up on the flat, the path is down right smooth. There is so much diversity here.
There are several things of note that we saw along this trail. One is the pleasant Modesta Spring at the bottom of the canyon. It's a lovely pool of clear water. Another is the Texas Madrone tree (Arbutus xalapensis). This tree has some fascinating bark with its multiple colors and textures. Then there are things called tinaja. Tinaja are water catchments in the rocks. Like all critters, those living in the desert need water to survive. In some of the rocks, there are depressions forming bowl-like places that catch water. Other tinaja are formed where the rock layers seem to separate from each other making small pools with angular sides where rain and run-off water accumulates.
Link to website of Chihuahuan Desert Nature Center and Botanical Gardens: http://www.cdri.org/
Tonight we have steak, potatoes, and broccoli for supper. It's so good. Tonight as we enjoy the fire, a few deer and javelina walk nearby. They are eating acorns under the trees. And a skunk walks right past Bill's leg. Literally!... within a few inches of his leg. I soooo wish I had captured that on video; though it was very dark out. Everyone remained calm, most importantly the little skunk. The skunk just continued to meander along on his merry way.
The next day we head out to the Fort Davis National Historic Site trails. We make a sort of loop starting at Davis Mountains State Park then enter the Fort Davis National Historic Site trails. The North Ridge Trail takes us through some gigantic and other-worldly looking rocks. It was fun to walk along the path with the huge rocks towering so close on either side. The North Ridge Trail goes to the Scenic Overlook (elevation 5,200 ft; 1,590 m) that looks out across Fort Davis HS. We traverse down the steep cliffside to the Fort Davis HS. We walk through the back of the historic site, past its hospital and pick up Hospital Canyon Trail. That takes us back up on top of the North Ridge where we make our way back to the state park. The length of this hike is around 2.2 miles (3.5 km). Link to Fort Davis Historic Site maps: https://www.nps.gov/foda/planyourvisit/maps.htm
Tonight, back at camp, we enjoy a beautiful fire well into the darkness of night.
The next morning the mountains are blanketed with a soft, thick fog. It's so serene.
We begin packing up camp. It turns out, lots of folks are curious about our gear. There are five different sets of people that stop by to chat with us as we are packing up. Two of the shorter visits are in the video.
Most of the time people ask us about George, (our Morris Mule Trailer) that has the Smittybilt Overlander Tent on top of it. They ask if we built it ourselves. We tell them we put the pieces together. Everyone seems to appreciate the setup. This morning a gentleman comes by asking about the Kelty Noah's Tarp (12 ft version) that we have setup over the picnic table. We discuss all its benefits of shade, and rain shed, and being compact to pack and carry.
The visits have ended. All the gear is packed. We didn't use all of the firewood we bought at the State Park. We return what we have left over; putting it back on the stack for the benefit of campers to come.
Home is 440 miles (708 km) away, and it's time to go.
Some of the Gear Used in this Video
If you use the Amazon links below and make a purchase, there is no additional cost to you. We make a tiny commission on the items you purchase. This helps us continue to make videos and share information. We appreciate your support.
Kelty Noah's Tarp, 12': http://amzn.to/2yN0XRv
Kelty Tent Poles: http://amzn.to/2k6FKhb
Smittybilt Tent Annex: http://amzn.to/2jcBgEB
Teton Sports Mammoth Double Sleeping Bag: http://amzn.to/2yLT3YA
Smittybilt Overlander Roof Top Tent (#2783): http://amzn.to/2kCvLiV
If you'd like to support Wobbly Otter Outdoors all you have to do is watch our videos. Okay, here are some other ways to support us too.
Disclosure: Some of the product links on this page are affiliate links, and at no additional cost to you, we may earn a small commission if you make a purchase after clicking through the link. By using these links you help support Wobbly Otter Outdoors. Thank you.