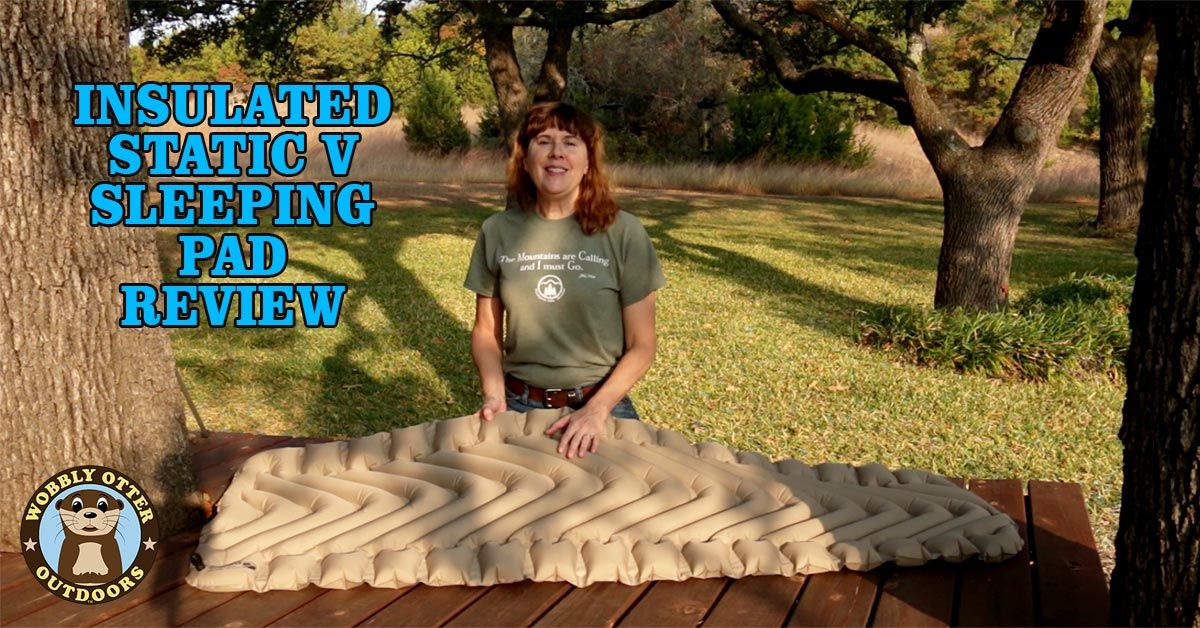 The Klymit Insulated Static V sleeping pad is light, packable, comfortable and warm. We like it!
In this review, we share the particulars about it, why we chose it and how it's working out so far.
Thank you for watching. We hope you'll subscribe to get the best Wobbly Otter adventures, how to's, and gear reviews delivered directly to you.
The Klymit Insulated Static V sleeping pad is 23" wide x 72" long x 2.5" thick (58.42cm x 182.88cm x 6.35cm) and has an R-Value of 4.4. When packed in it's 5" x 8" and weighs 25 oz (709 g).
There are two main reasons we purchased this sleeping pad.
The first reason is, the 2" foam mattress in our roof top tent isn't thick enough. When sleeping on our sides, our shoulders and hips touch the floor of the tent and that's not comfortable.
The second reason we chose the Static V sleeping pad is it is compact and portable. This works out great to put it in our get-home bag or use it anywhere else besides the roof top tent.
Klymit makes a Static V sleeping pad that is not insulated, but we chose to go with the insulated one for use in colder weather. The R-value of 4.4 does a good job of protecting against the loss of body heat to the ground. Even though it's insulated, we find that it isn't too hot for use on warm nights.
The material is more woven like fabric. It does not have a plastic feel at all. While it makes a little noise when you move around on it, it isn't loud or overly noisy.
It takes me about 15 breaths to inflate the pad completely. That said, I find the Insulated Static V to be more comfortable if I let a little air out of it.
When completely inflated, it's a bit too bouncy. So, I let out enough air so that if I'm sitting in the middle of it my bum just touches the ground. With a little less air it supports me while still keeping me up off the ground. It's a win-win.
All Klymit sleeping pads come with a stuff sack, patch kit, and lifetime guarantee.
MORE SLEEPING PADS BY KLYMIT
Klymit Static V Lightweight Sleeping Pad
If you're looking for the lightest, most comfortable sleeping pad for backpacking and ultralight camping, this is the one for you.
Packed weight: 18.6 oz (527 grams)
Packed size: 3" x 8" (7.62 cm x 20.32 cm)
Inflated size: 72" long x 23" wide x 2.5" thick (182.88 cm x 58.42 cm x 6.35 cm)
Colors at the time of this writing: green/char black (top/bottom), king's camo, pink camo, recon coyote sand, Realtree Xtra camo
Klymit Static V Luxe Sleeping Pad
This down-right spacious sleeping pad is for those who understand that camping and backpacking can be done without sacrificing comfort.
Inflated size: 30" wide x 76" long x 3" thick (76.2 cm x 193 cm x 7.62 cm)
Packed size: 5.5" x 10" (13.97 cm x 25.4 cm)
Packed weight: 26.5 oz (751.26 grams)
R-value: 1.3
Klymit Hammock V Sleeping Pad
Sleeping in a hammock can be a most relaxing experience. That experience can be even more pleasurable when using the Hammock V sleeping pad by Klymit. Insulated and non-insulated versions are available. The pad wraps the body creating a barrier that prevents cold from creeping in from the bottom and the sides.
Inflated size: 47" wide x 78" long x 2.5" thick (119.38 cm x 198.12 cm x 6.35 cm)
Pack size: 4" x 8" (10.16 cm x 20.32 cm)
Weight: 27 oz (765.4 grams)
R-value: 1.6 (non-insulated pad)
If you'd like to support Wobbly Otter Outdoors all you have to do is watch our videos. Okay, here are some other ways to support us too.
Disclosure: Some of the product links on this page are affiliate links, and at no additional cost to you, we may earn a small commission if you make a purchase after clicking through the link. By using these links you help support Wobbly Otter Outdoors. Thank you.