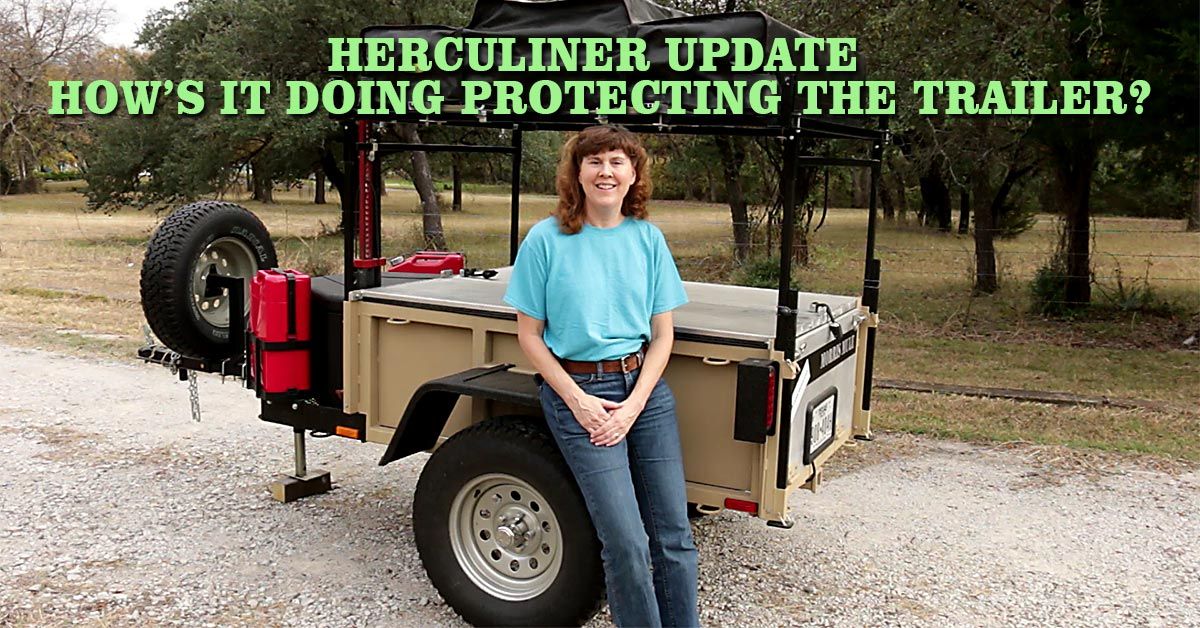 This is a review of the Herculiner we put on our Morris Mule trailer after about one year and 4,500 miles.
Thank you for watching. We hope you'll subscribe to get the best Wobbly Otter adventures, how to's, and gear reviews delivered directly to you.
The main reason we put Herculiner on the Morris Mule trailer was to protect the forward facing surfaces. The paint had been beaten off those surfaces by rocks, gravel and sand during our travels.
The surfaces we had painted wither Herculiner include: the cargo deck at the front of the trailer, fenders, front of the crossbars underneath the trailer, the foward and side facing surfaces of the brake light boxes and the trailer bed.
Since applying the Herculiner to the trailer, we've traveled about 4,500 miles (7,242 kilometers) and a good bit of that has been off-pavement. The Herculiner on the exterior are completely protecting the trailer. There are no signs of chipping on the exterior.
The bed of the trailer is what had needed Herculiner most. There were large areas where our gear had rubbed off the paint down to bare metal. Some of those places had gotten wet and rust had started to form. Two coats of Herculiner were applied to the bed of the trailer about a year ago.
[ See the information and video about painting the trailer with Herculiner. ]
Today, inside the bed of the trailer there are some areas where the feet of our weathertight gear containers and other items have rubbed through the Herculiner down to the metal. Our hope is that we can do spot touch-ups of those areas. One consideration is to apply additional layers of Herculiner. We may give that a try in the future.
Overall, we've been pleased with how the Herculiner is holding up. It's succeeding in its main purpose of protecting the forward facing exterior surfaces.
If you'd like to support Wobbly Otter Outdoors all you have to do is watch our videos. Okay, here are some other ways to support us too.
Disclosure: Some of the product links on this page are affiliate links, and at no additional cost to you, we may earn a small commission if you make a purchase after clicking through the link. By using these links you help support Wobbly Otter Outdoors. Thank you.