A couple of years ago Cris and I decided that prepping would be a good idea. Not SHTF, over the top, living off the land picking bug shells out of your teeth kind of prepping, but something a bit more attainable. We set 30 days without a power grid as our initial goal.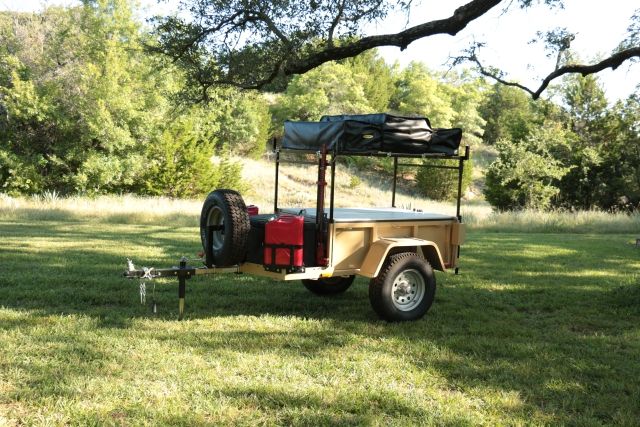 We originally purchased the Morris Mule Trail Grade trailer to use as a bug-out trailer. As we put more of our kit together it dawned on us that if we can use it to bug out and live comfortably for a month, we don't have to wait for an emergency. We are ready to go pretty much anywhere at any time.
We've spent the last decade building a business that we can run from anywhere in the world. If we can access the Internet somehow, that is. Overlanding fits in with that like a hand in a glove. Here's a hint for you, mountaintops are great for getting cellular data reception. We can camp in the valley and be cell-free, then go to the mountaintop for our data fix.
We like our adventure trailer because it is relatively small and light, but it carries a lot of gear. We can set up camp and then go exploring without having to tear down anything. If we are in rough terrain, we might take the Hi-lift jack and jack stands off the trailer and throw them in the truck, but that's about it.
Be sure to subscribe on YouTube or check back frequently because we are going places!
Smittybilt Overlander Rooftop Folding Tent Review & Walkthrough http://www.wobblyotteroutdoors.com/videos/18-rooftop-tent-review-smittybilt-overlander-tent.html
Morris Mule Trailer Company http://morrismule.com/
Crown Automotive 11010R Red Jerry Gas Can: http://amzn.to/29FnM1E
Smittybilt 2789 Jerry Gas Can Holder: http://amzn.to/29zxJsO
StowAway Hitch Tightener: http://amzn.to/29BmmGZ
Buyers Trailer Tongue Polymer Toolbox: http://amzn.to/29GRTFc
Smittybilt Overlander rooftop tent: http://amzn.to/29zxTAz
Music by Epidemic Sound (http://www.epidemicsound.com)
Disclosure: Some of the product links on this page are affiliate links, and at no additional cost to you, we may earn a small commission if you make a purchase after clicking through the link. By using these links you help support Wobbly Otter Outdoors. Thank you.