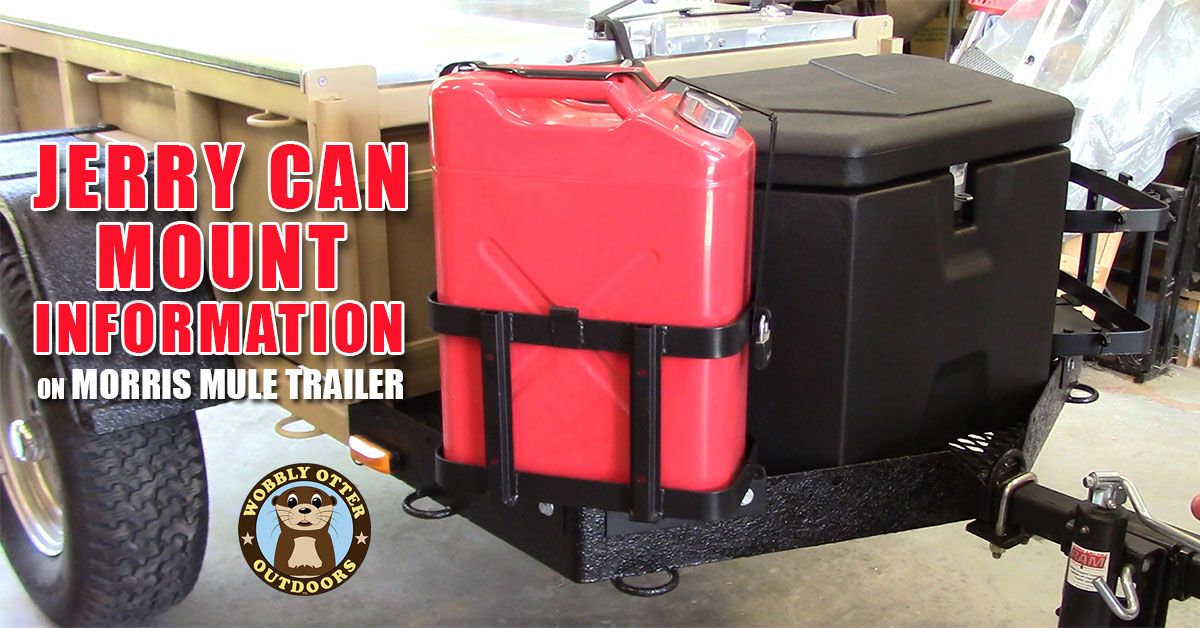 A number of folks have asked how we mounted the jerry can holders to the tongue of the Morris Mule trail-grade trailer. Here's how...
We purchased Smittybilt's jerry can holders. Bill fabricated the mounting brackets that attach the holders to the trailer.
There are two pieces of angle iron for each jerry can. They are about 8 inches long and drilled to match the holes on the trailer.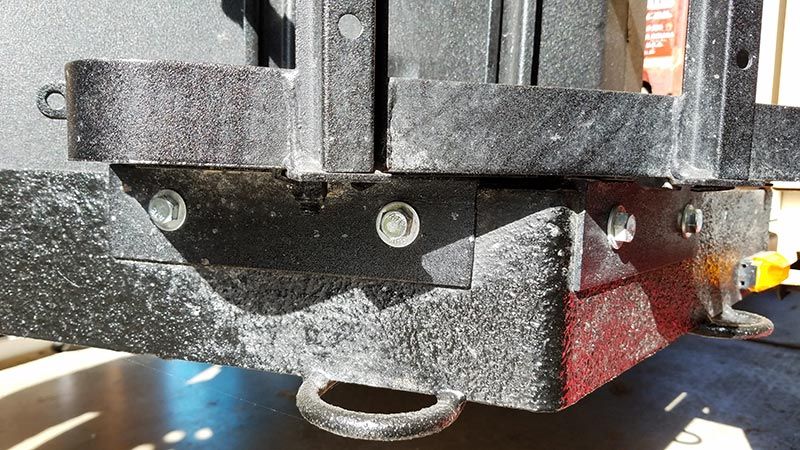 above: Angle iron portion of brackets bolted to the trailer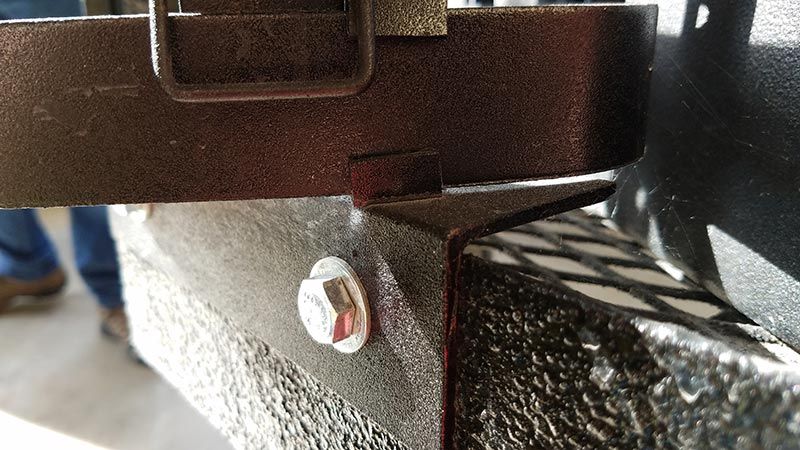 above: Close-up of angle iron bolted to trailer
Bill stiffened the mounts a with a piece of 16 gauge steel that is 12 inches by 5.5 inches; one for each mount.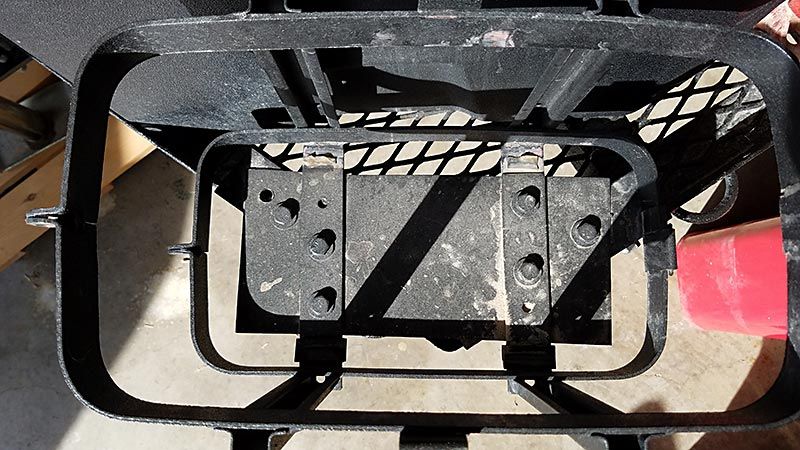 above: Top view of the 16 gauge steel
The extra hole (top left) is the result of freehand fabrication... drilled straight into a bolt. Oops.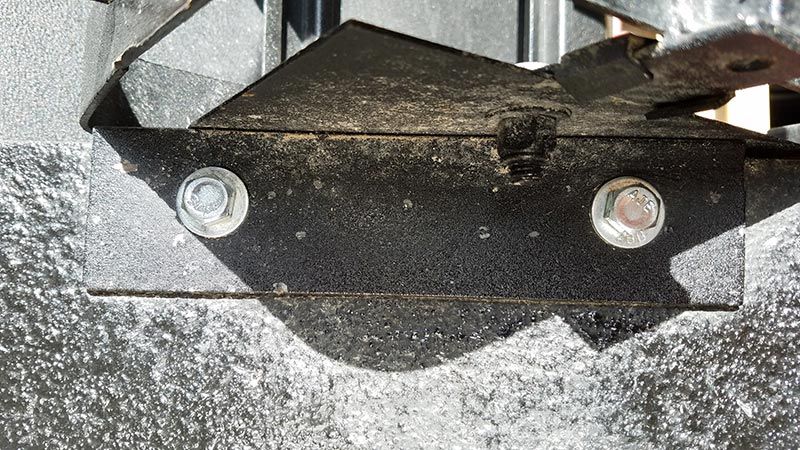 above: View of the bottom of the 16 gauge steel and front of the angle iron mounted to the trailer

Bill bolted the angle iron onto the trailer and then clamped everything together before marking and drilling everything freehand.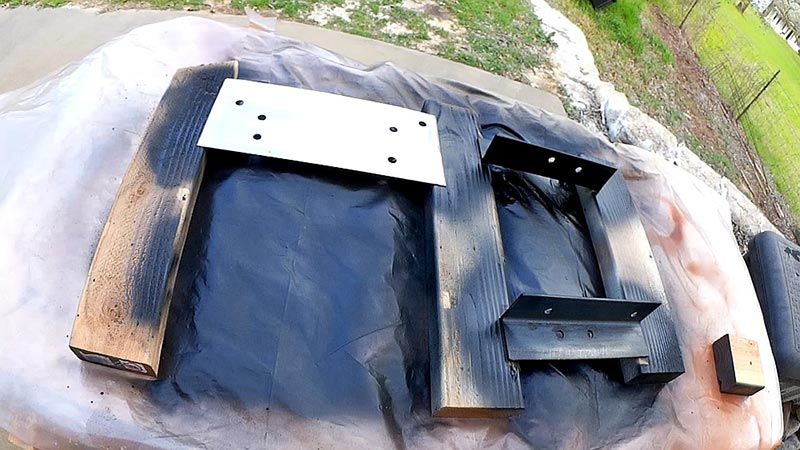 above: The pieces as they are being painted.
Do We Sell the Custom Mounting Brackets
We have been asked if we sell the mounting brackets like the ones we made for George (our Morris Mule trailer). We have no plans to manufacture nor sell the mounting brackets.
Links to Related Items on Amazon
Crown Red Jerry Gas Can: http://amzn.to/2uDrb8N
Smittybilt 2798 Jerry Gas Can Holder (We purchased the Smittybilt holders through Amazon. Sometimes these specific holders aren't available there.): http://amzn.to/2uzg1Dq
Jerry Can Spout Military Style 5 gallon metal gas can spout: http://amzn.to/2uDCyxA
If you'd like to support Wobbly Otter Outdoors all you have to do is watch our videos. Okay, here are some other ways to support us too.
Disclosure: Some of the product links on this page are affiliate links, and at no additional cost to you, we may earn a small commission if you make a purchase after clicking through the link. By using these links you help support Wobbly Otter Outdoors. Thank you.