Details

Written by

Cris

Hits: 1859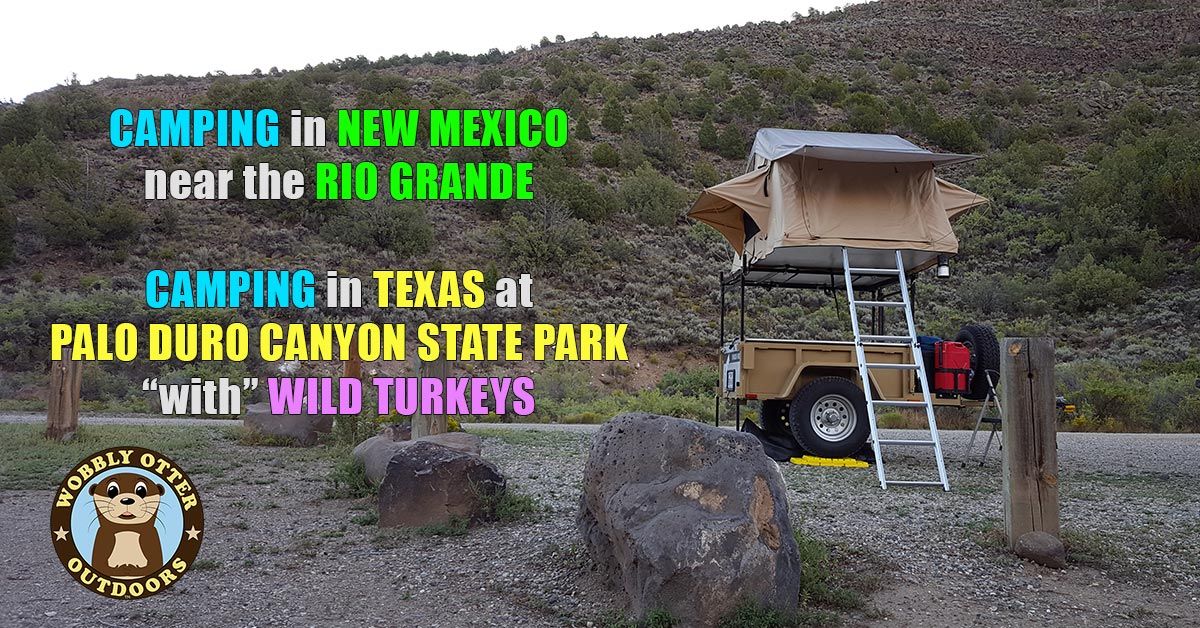 These are the last two nights of our 23-day expedition to Washington State and back.
We camp in the Rio Pueblo Campground in Orilla Verde Recreation Area of New Mexico the first of the two nights. Camp is about 250 yards from the Rio Grande river. The last night on the road finds us in Texas at Palo Duro Canyon State Park.
---
In the video below you'll join us as we experience beautiful scenery and wildlife in this last bit of the journey.
" data-uid="bajvj" data-loading-text="Loading...">
Thank you for watching. We hope you'll subscribe to get the best Wobbly Otter adventures, how to's, and gear reviews delivered directly to you.
Orilla Verde Recreation Area is on Bureau of Land Management (BLM) land near Taos, New Mexico. The Rio Pueblo Campground is the last campground in Orilla Verde and has several sites that are spaced far apart from one another. Elevation is 6,100 feet (1,859 meters). We're in site #4 and it has a picnic table and fire ring. The restrooms are a bit of a hike down a slight ridge. The Rio Grande river is a short walk past the restrooms. Low temperature in the evening is around 50 degrees Fahrenheit.
The next morning we pack up camp and head toward Palo Duro Canyon State Park, Texas.
Flechado is a day use area in the Carson National Forest along our route. It's a small area along the Rio Pueblo river and a perfect place to listen to the lovely sounds of this picturesque stream.
Yay! We manage to find a dirt road for a part of the travel through New Mexico. Bill tells me that this dirt road used to be THE road to take across the mountains. We encounter no other vehicles along the scenic drive.
Along New Mexico's plains we often see antelope (pronghorn) and sure enough, we get to see one today! That's always a treat. (I know their correct name is pronghorn, but I grew up calling them antelope. So my first thought upon seeing one is - antelope. I'm attempting to retrain myself.)
It's 6:15 pm when we arrive at Palo Duro Canyons State Park. We select Mesquite Campground, site #81, sight-unseen. Turns out, site 81 is nestled at the base of a lovely clay mound and the clay has washed over the camping pad. It's a nice setting. BUT, it's supposed to rain tonight and we don't want to be walking around in a muddy mess, so we move to an open site (#78) that has no clay. Not as picturesque, though much cleaner for us and our gear.
We take showers in the bath facilities of the campground. Wonderful hot water! Best shower on the whole trip. Maybe that's because it's still nice and warm outside.
It's a beautiful night. The temperature is 74 degrees Fahrenheit (23C) at 8:45 pm. The evening low is around 68F (20C).
The next morning I dry off the tent with a chamois-like adsorbers. A group of about seven wild turkeys comes through camp. They make the most pleasant chatter noise as they walk through. They have absolutely gorgeous feathers. I finish getting the majority of water off the tent and we pack up and head for home.
We've been on the road for 23 days. It's been an incredible trip and we've seen many amazing things, and got to visit with family too. I would do it again in a heart-beat. It's always good to be home.
We have more trips in the works!
If you'd like to support Wobbly Otter Outdoors all you have to do is watch our videos. Okay, here are some other ways to support us too.
Disclosure: Some of the product links on this page are affiliate links, and at no additional cost to you, we may earn a small commission if you make a purchase after clicking through the link. By using these links you help support Wobbly Otter Outdoors. Thank you.