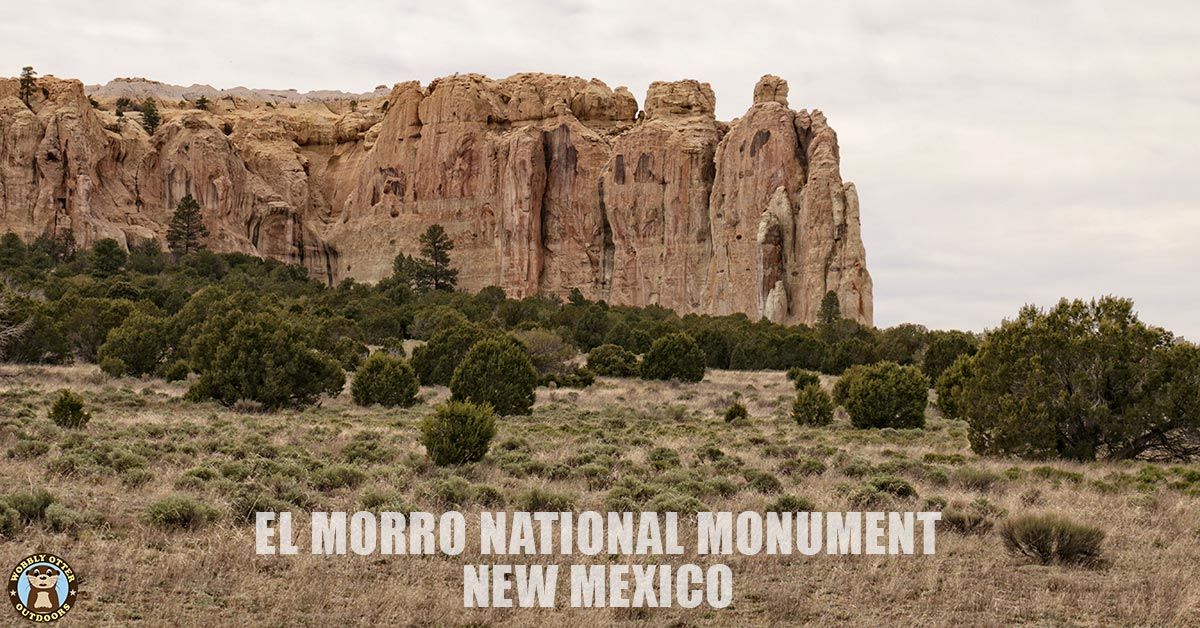 Just when everything seems to be unraveling, we come across wonderful people and places. Our goal is to go to Flagstaff, AZ. A change of plans takes us to El Morro, NM instead.
Checkout the video below to see our travels and visits of El Morro, NM, the Wild Spirit Wolf Sanctuary, and El Morro National Monument.
Thank you for watching. We hope you'll subscribe to get the best Wobbly Otter adventures, how to's, and gear reviews delivered directly to you.
This morning we leave Chimayo, NM with our sights set on Flagstaff, Arizona. It's an incredibly windy day and the straps that hold down the roof top tent cover blow loose several times, and we have to stop to fasten them back.
We make it to Gallup, New Mexico, stop for gasoline and re-evaluate the trip. The weather forecast calls for continued strong winds on the way toward, and also in Flagstaff. We look at the map for places to camp that are within 60 miles of our current location. The location chosen is El Morro National Monument campground. It's 55 miles away, and we can make it there in time to set up and cook supper before dark. The only potential drawbacks are that there are only nine sites in the campground and it's Saturday night.
When we arrive, the campground is full. We head toward Grant, NM hoping to find some place to camp fairly quickly. We go only a few miles down the road and discover El Morro RV Park and the Ancient Way Cafe in the small town of El Morro. Both businesses are run by the same folks.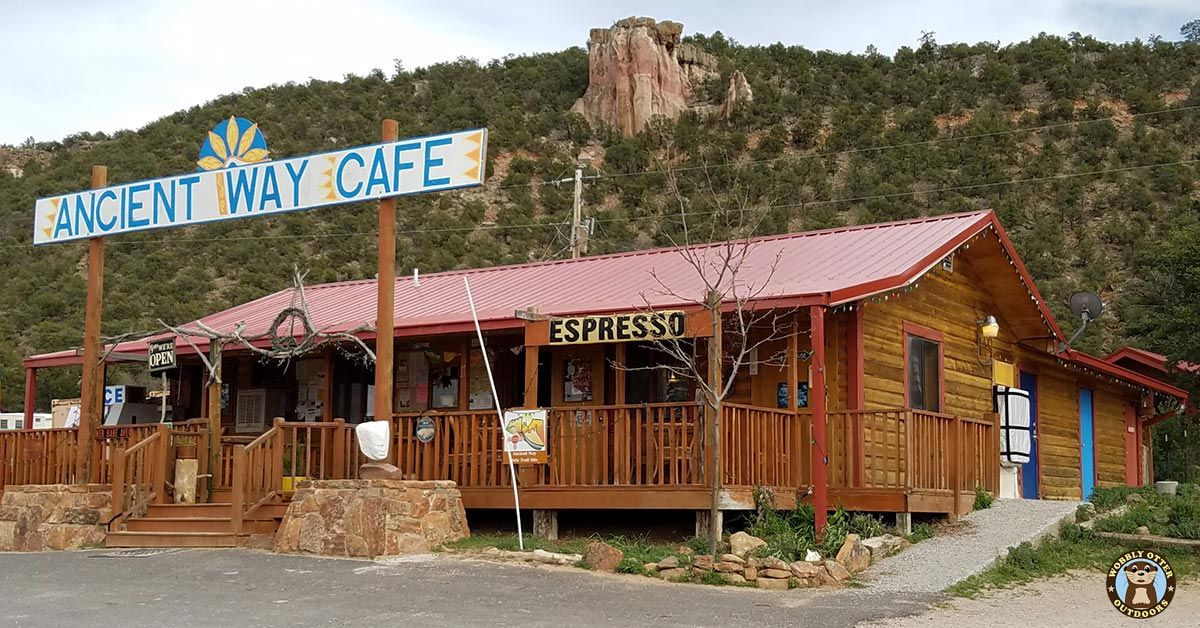 above: The Ancient Way Cafe in El Morro, New Mexico
Just when everything seems to be going wrong, we come across wonderful people and places. Here are the highlights of our conversation with the incredibly kind man who checked us in.
Yes! There are sites available, and he helps us choose one that works best for us.
When we offer to pay for the site he tells us, "We can settle up tomorrow."
Then he says he hopes we will have dinner in their cafe tonight because they have a special: Pork loin with ancho chili and lime sauce, wild and white rice and sauteed green beans, squash, and onions. This part lifted our spirits through the roof. Dinner was amazing.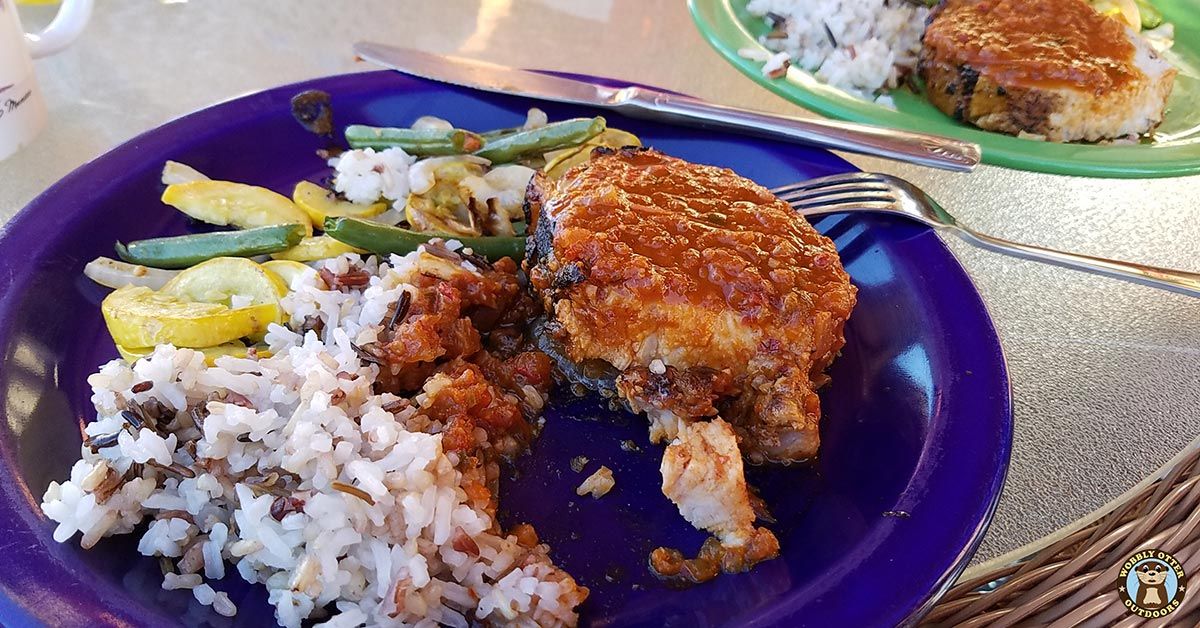 above: Our amazing dinner including pork loin with ancho chili and lime sauce
The whole crew at the Ancient Way Cafe and El Morro RV Park are so hospitable that we decide to stay for two nights. Our sincere thanks to them for a wonderful camping and dining experience. Link to Ancient Way Cafe website: https://www.elmorro-nm.com/ancient-way-cafe
The next day (Sunday) we visit the nearby Wild Spirit Wolf Sanctuary in the morning, in Rahma, NM. We happen to arrive at the perfect time, about 10 minutes before the tour starts.
above: On the left is a high-content wolf-dog. On the right is an arctic wolf.
The 80-acre sanctuary is home to around 50 rescued, unwanted and unreleasable captive-bred wolves, wolf-dogs and other exotic canines. There are so many beautiful creatures at the sanctuary, and their enclosures/habitats are huge.
The Wild Spirit Wolf Sanctuary website: https://wildspiritwolfsanctuary.org/
After lunch, we head back to El Morro and visit the National Monument. They close mid-afternoon, so we only have time to walk the Inscription Trail.
On this trail, there is a huge natural pool, partially shaded by the mountain walls that always has water in it. It was a popular stopping place for travelers to find drinking water for themselves and their horses, as well as being used by the indigenous people and wildlife.
There are hundreds of Spanish and Anglo inscriptions and prehistoric petroglyphs carved into the stone mountain that gives the trail its name - Inscription Trail. Inscription Rock is the name of that part of the mountain.
Tonight is supper on our own because the Ancient Way Cafe is closed for dinner on Sundays.
Next morning after breakfast we pack up camp and hit the road headed toward Baca Campground in the Lincoln National Forest of New Mexico.
Amazon Affiliate Links to Some of Our Gear...
If you'd like to support Wobbly Otter Outdoors all you have to do is watch our videos. Okay, here are some other ways to support us too.
Disclosure: Some of the product links on this page are affiliate links, and at no additional cost to you, we may earn a small commission if you make a purchase after clicking through the link. By using these links you help support Wobbly Otter Outdoors. Thank you.