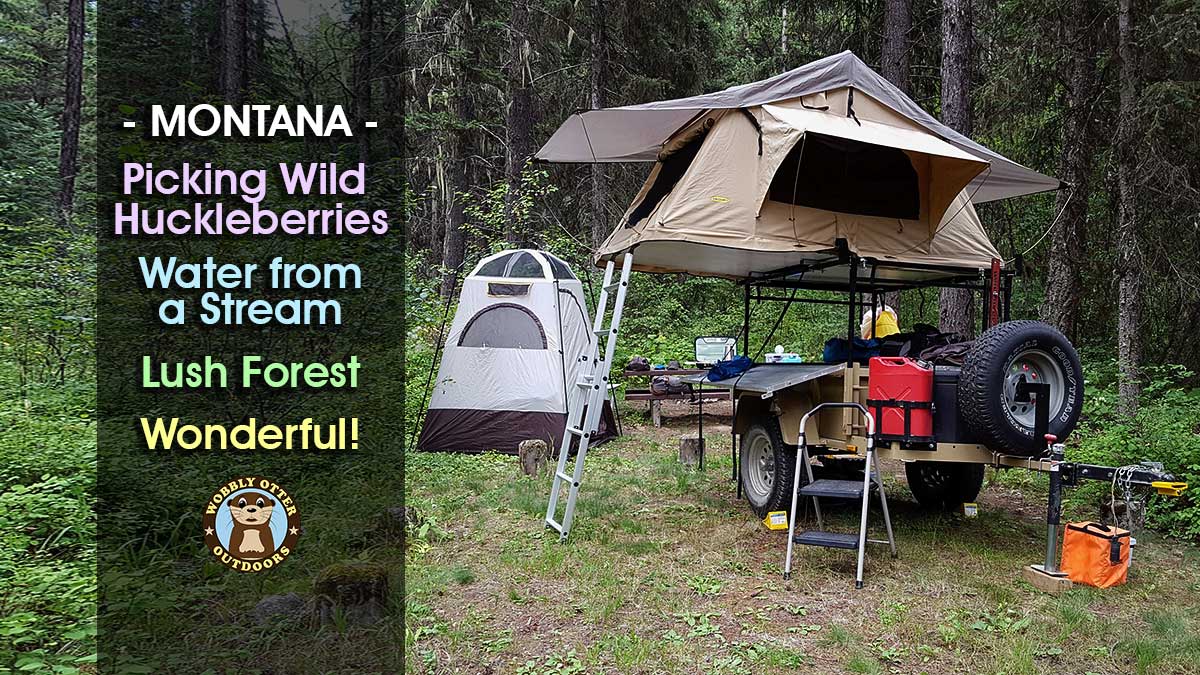 We stay two nights at Gold Rush Campground in Lolo National Forest. The closest town is the lovely Thompson Falls, Montana.
Elevation at camp is 3,500 feet (1,067 meters). Each site has a fire pit and a picnic table. There is a vault toilet in the campground. In the video we show you where to find the water with hand pump. Unfortunately, during our visit, the pump was broken.
Thank you for watching. Subscribe to get the best Wobbly Otter adventures, how to's, and gear reviews delivered directly to you.
We visit Island Park along with its dam and fish ladder. A neighbor camper gives us some huckleberries that he picked in Lolo National Forest. The berries are beautiful and smell hevenly - similar to a blueberry with a strong vanilla note in their smell. Hunting for huckleberries sounds like fun so we head up the mountain and manage to find them.
Since the water pump at the campground is broken, we gather water from a small stream that runs through camp; filter it and boil it. At the time, we decided to boil the water for 15 minutes to be sure it is safe to drink. After later research, we learn boiling it (rolling boil) for 1 minute at sea level and 3 minutes at elevation is long enough to make it safe for drinking.
That evening is just as pleasant as the day with a nice campfire, fresh veggies and fire-roasted sausages.
In the next episode we leave Montana and camp at the Salmon La Sac Campground near Cle Elum, Washington.
If you'd like to support Wobbly Otter Outdoors all you have to do is watch our videos. Okay, here are some other ways to support us too.
Disclosure: Some of the product links on this page are affiliate links, and at no additional cost to you, we may earn a small commission if you make a purchase after clicking through the link. By using these links you help support Wobbly Otter Outdoors. Thank you.