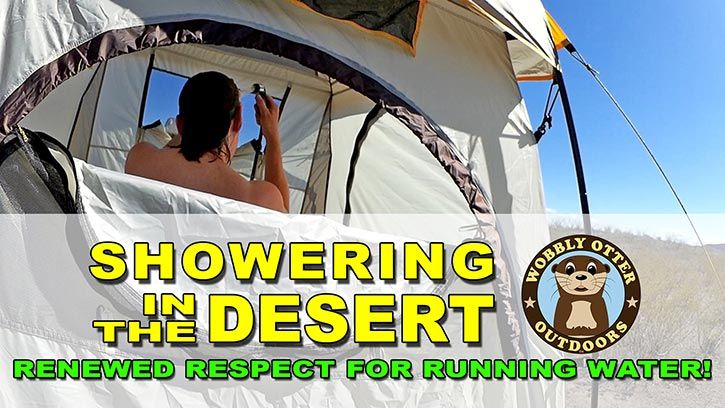 The Helio Pressure Shower fills two needs. 1) Some of the places we camp don't have shower facilities, so we need a portable, durable shower to take with us. 2) At home, we have well water with an electric pump. If the electricity goes out, we don't have running water in the house. The Helio Pressure Shower gives us the ability to have running water during power outages.
In the video, you'll see:
How to fill the tank
How to operate the foot pump
The pressure shower in use on a camping trip in the Chihuahuan Desert
Suggestions and information based on our experience
The carrying case and unpacking of the pressure shower
Thank you for watching. Subscribe to get the best Wobbly Otter adventures, how to's, and gear reviews delivered directly to you!
After camping without running water for four days, I have a renewed appreciation for this modern convenience. The pressure shower performed beautifully. I'm so very glad we have it.
Features of the Nemo Helio Pressure Shower
2.9 gallon (11-liter) capacity
Foot pump to pressurize tank
7' hose with trigger operated sprayer
See-through top that enables view of water level
Durable carrying case with ventilation holes and high-quality zipper
Made well and of durable material
Benefits of the Nemo Helio Pressure Shower
Pressurized running water
Portable
Quick and easy setup
Easy to use
Don't have to hang it
Dark tank color allows the sun to warm the water inside
Observation & Suggestion
The foot pump is tall/thick which is good because each press puts a lot of air into the tank to increase the pressure. Since everything is wet and slippery when showering, it's easy for your foot to slip off the pump. We are going to put a small towel over the foot pump and see if that prevents our foot from slipping off.
Will We Use It Again?
Yes, I look forward to using the Helio Pressure Shower on all our camping adventures to come. I guess that's the best recommendation one can give.
We Appreciate Your Support
Links to the pressure shower and related items we use are below. When you use the links and purchase any item from Amazon, we get credit, and it is at no additional cost to you. It's one way you can support Wobbly Otter Outdoors, and we appreciate your support!
Disclosure: Some of the product links on this page are affiliate links, and at no additional cost to you, we may earn a small commission if you make a purchase after clicking through the link. By using these links you help support Wobbly Otter Outdoors. Thank you.