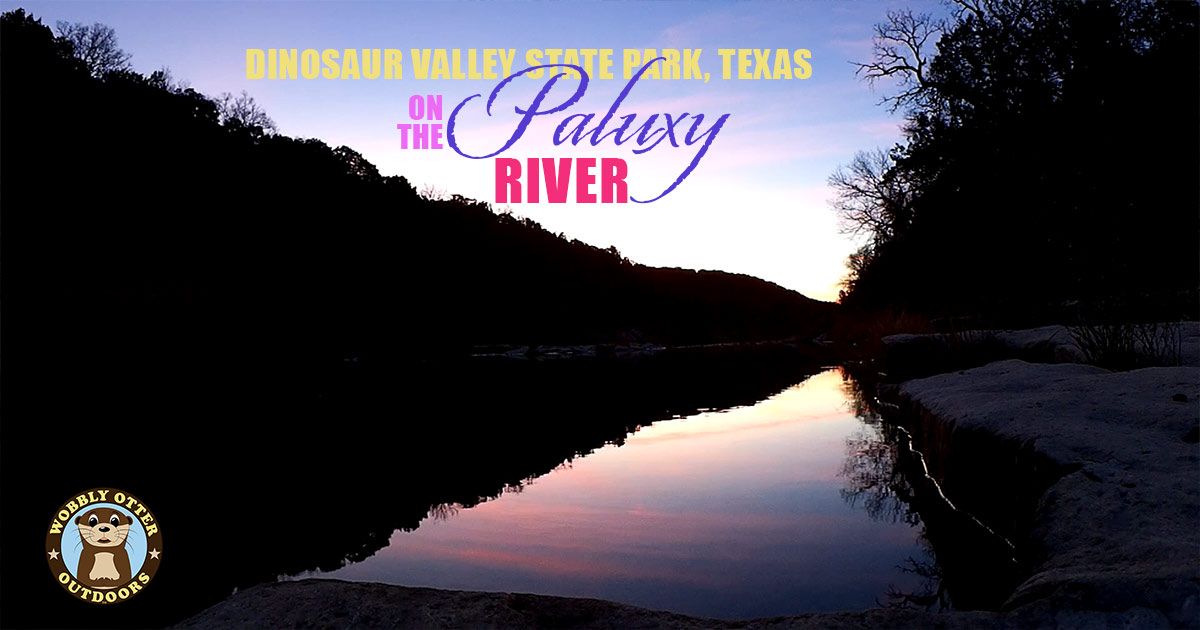 It's Viva's first camping trip! We stay in Dinosaur Valley State Park of Texas.
Check out the video below to join us for all the sights and sounds of the trip.
Thank you for watching. We hope you'll subscribe to get the best Wobbly Otter adventures, how to's, and gear reviews delivered directly to you.
This is also the first time we've gone out in "Bart," the Starcraft AR-One Extreme 15RB camper trailer. Don't worry; we still have George (the Morris Mule trailer with roof top tent). We love George!
Dinosaur Valley State Park is near Glen Rose, Texas. Since this is a first for camping with Viva and camping in Bart, it seems wise to be relatively close to home.
It lunch-time when we arrive, so the three of us have, well, lunch. We're eating at the picnic table in camp. Viva's water and food bowls are beside us. An unusually brave squirrel approaches us. What the heck is he thinking?! At first, I think he is taunting our dog then I realize he is interested in the dog food. Viva dissuades the squirrel, and we put her food and water back inside the camper.
Time to check out the Paluxy River! There is a path behind camp that goes along the steep river bank then down to the river. The water is beautiful and clear. It's the first time Viva has seen a river. We walk along the rocks out into the water and Viva gets her feet wet. We hike a little bit and explore then head back to camp.
Guess who's waiting for us in camp. Yep! It's "Brave Squirrel." The little squirrel walks right up to Bill, sits on its hind legs and twitches its tail. Folks must feed the squirrels.
The campsite has a beautiful rock fireplace. The picnic table is on a concrete pad. Off to the side is a small grill. Tonight, it's steaks, bannock (bread) and beans for supper. Yum. The temperature is dropping quickly with the setting of the sun. It will be below freezing tonight. It got up to 78 degrees F (25 C) today.
Inside the camper, Viva's spot in on the little bench seat. Bill and I are in the bed that doubles as a dinette. This arrangement doesn't last long. In the middle of the night, Viva learns that if she lays lengthways with us, we will let her stay in bed with us. Surprisingly, this works great. When we have practiced camping with Viva in the backyard, she liked to lay across the bed... then there is no room for us.
It got down to 27 degrees F (-2.8 C) last night. Bill captures beautiful footage of the sunrise over the Paluxy River. So peaceful. So serene.
Breakfast is leftover steak, and fresh eggs. Now it's hiking time! Bill wanted to go on a short hike to see how Viva would do then return to camp and decide if she was up to hiking more. Well, let's just say, I didn't get that memo. I pick one of the longer trails; the Black-Capped Vireo trail. Oops. I am now, no longer in charge of the hiking maps.
Oh, and we see the coolest sign along the trail... "WARNING. Bigfoot Area. Stay on Marked Trails." Love it!
Viva does well. We take plenty of water breaks. I keep a collapsible water bowl in my hiking pack (and in my go bag) for Viva. It's light, a nice size, and collapses to be relatively small. I love the convenience of these little bowls and they are reasonably priced.
The scenery is pleasant. The trails are fairly well marked, though I do think we got off track once (or twice, or...). We switch from the Black-Capped Vireo Trail to the Overlook Trail now. There are several breathtaking views of the valley with the Paluxy River winding through it.

above: Bill on top of one of the many giant boulders in Dinosaur Valley State Park
One of the times we think we are off-track, is also one of our favorite parts of the hike. We end up walking along the bottom of a large draw with steep slopes on either side that are covered in trees and huge boulders. Gorgeous.
We work our way up out of the draw and manage to find a trail that is the Paluxy River Trail. The trail has a most beautiful wooden bridge that crosses the draw. There are about 2" spaces between the small cross-boards of the bridge. Bill crosses alone then Viva, and I follow. She only had a paw slightly slip between the boards a couple of times. That didn't slow her down any.
It's past noon. We're hungry! Then, Yay!, we see an "Exit" sign. Our pace quickens. We make it to the river which means we are getting close to camp. We make it. Time for a late lunch and a nap!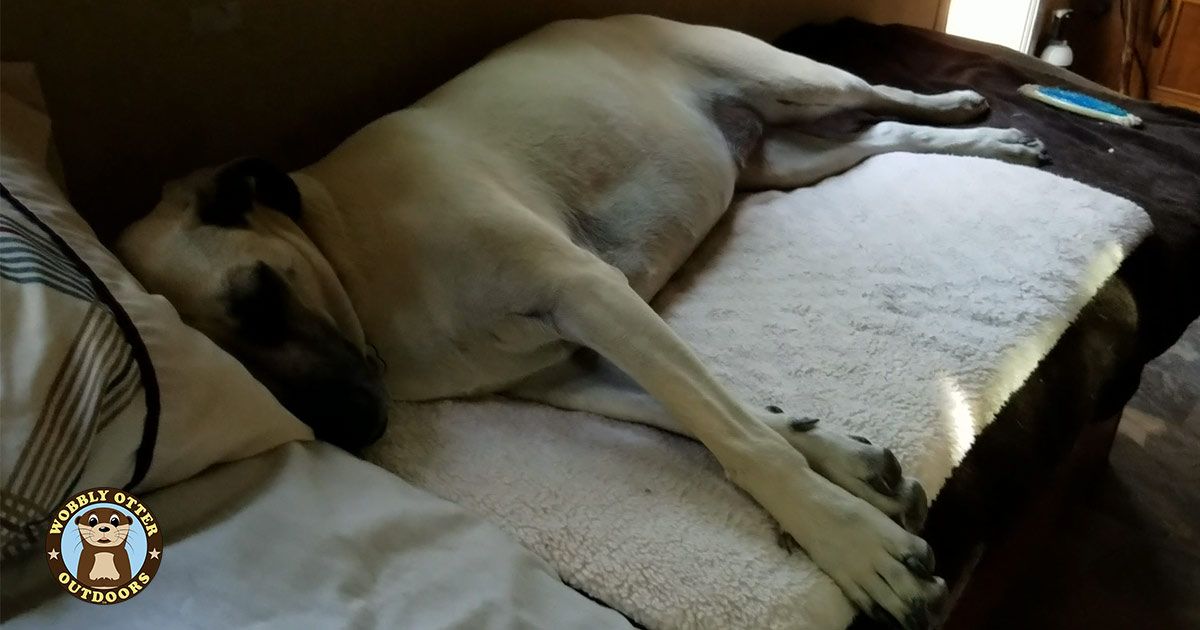 above: Viva is worn out!
Later in the day, we're off to the part of the river where the dinosaur tracks are exposed. There are huge flat rocks in the river so you can walk across to see the fossilized tracks. The tracks are in the Paluxy riverbed and were made by "the fierce predator Acrocanthosaurus, and Sauroposeidon - its prey."
We swing by the gift shop to see if they have firewood, and they do. Outside of the gift shop is a large set of automated metal bins where you may purchase either smaller or larger bundles of firewood. After paying, a bin door pops open. Very nice. Near the gift show are two giant dinosaur models: a Tyrannosaurus rex and a Apatosaurus. We took several "touristy" photos then went on our merry way back to camp.
After supper, we enjoy a pleasant fire, the sound of crickets and the color-changing glow of our Luminoodle. (Such a fun product name.)
It's been a long day. Bill's step counter says he walked 7.5 miles today. I believe it! All three of us sleep soundly this evening. Viva, laying lengthways between us in bed, didn't move around at all. Tired, content pup.
The next morning we have a leisurely breakfast, break camp and head home. It's been a good trip of firsts.
If you'd like to support Wobbly Otter Outdoors all you have to do is watch our videos. Okay, here are some other ways to support us too.
Disclosure: Some of the product links on this page are affiliate links, and at no additional cost to you, we may earn a small commission if you make a purchase after clicking through the link. By using these links you help support Wobbly Otter Outdoors. Thank you.