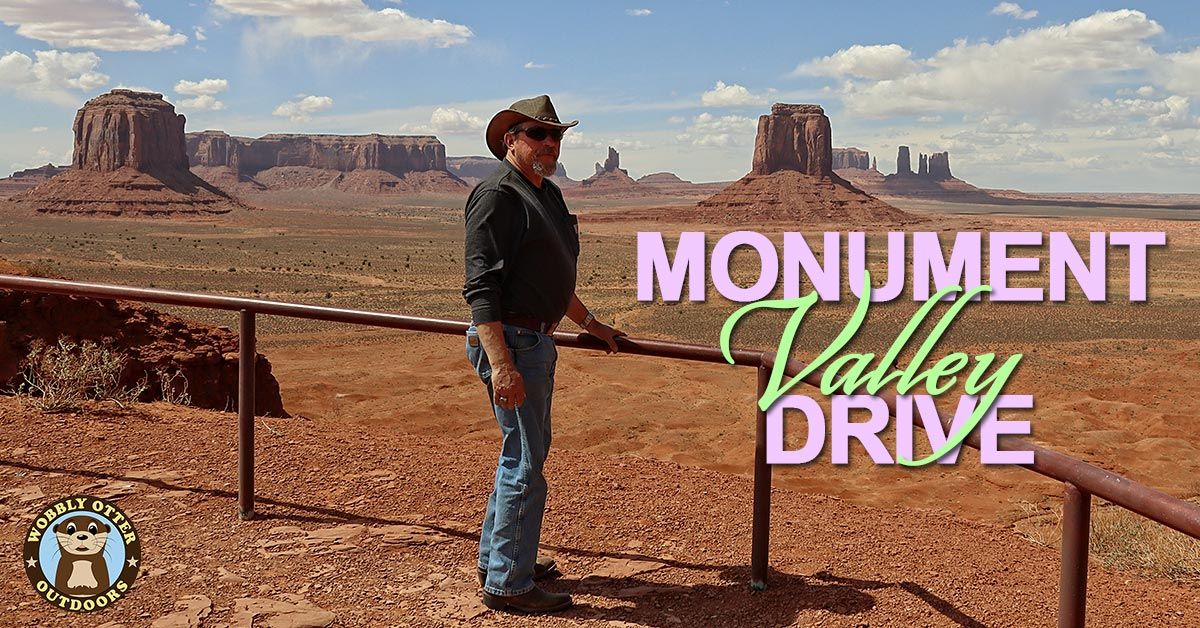 Monument Valley Tribal Park is in the Navajo Nation, and spans into both Arizona and Utah.
In the morning, we pack up camp at Canyon de Chelly and head toward Monument Valley. Come along with us in the video below.
Thank you for watching. We hope you'll subscribe to get the best Wobbly Otter adventures, how to's, and gear reviews delivered directly to you.
The monuments are sandstone buttes in about a 28 square mile area of the Colorado Plateau. The valley elevation is 5,000 to 6,000 feet. The largest buttes rise 1,000 feet (300 meters) above the valley floor.
Guided tours are available in everything from Jeeps to covered, open air tour trucks that seat many people. It can be dusty, so if you are in an open air vehicle, you may find a dust-blocking face mask helpful. Hence, Bill's attire in the video intro.
Some areas of Monument Valley are accesible only through a guided tour.
We are taking our own vehicle on the Valley Drive which is a 17-mile (27 kilometer) dirt road through the monuments. Allow 2 to 3 hours for the drive.
At the entry gate, the young lady asks us if we are willing to leave our trailer in the parking lot. Their intial concern is the ability of George to make the trip. We tell her that the trailer is made for offroad travel. After getting a better look at George, she smiles and knowingly agrees. Awesome - George gets to go too!
below: Ike & George in Monument Valley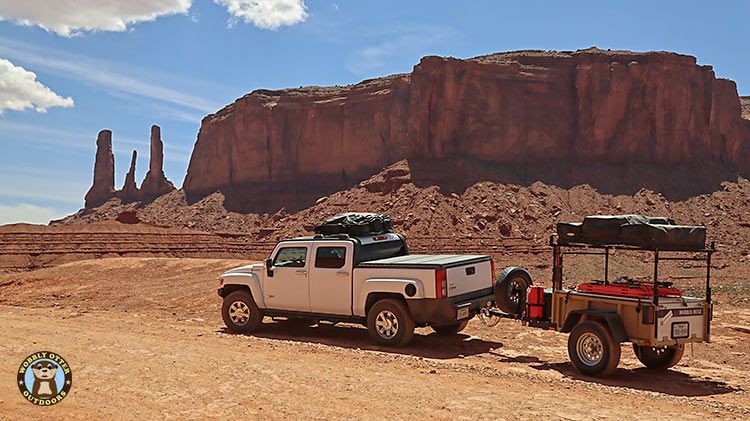 The views in Monument Valley are beautiful, fascinating and almost other-worldly. The Valley Drive is somewhat busy with visitors, but it is worth the trip.
If you'd like to support Wobbly Otter Outdoors all you have to do is watch our videos. Okay, here are some other ways to support us too.
Disclosure: Some of the product links on this page are affiliate links, and at no additional cost to you, we may earn a small commission if you make a purchase after clicking through the link. By using these links you help support Wobbly Otter Outdoors. Thank you.