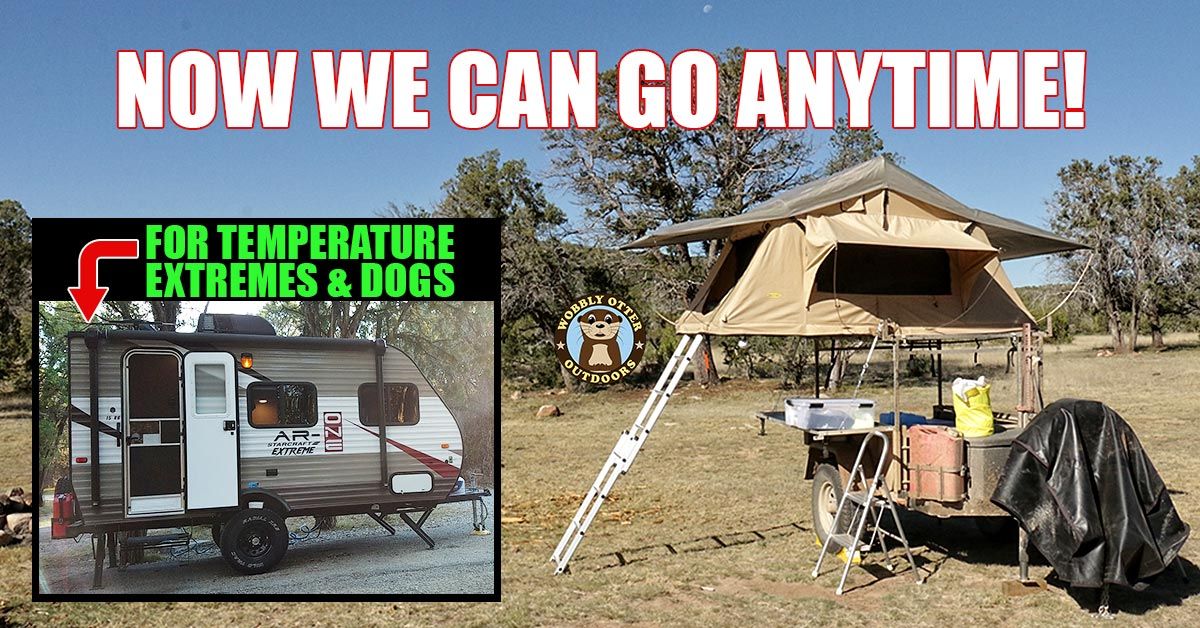 After introducing Bart, the camper trailer, folks started asking if we still have George, the Morris Mule trailer. Yes, we still have George!
In this brief video we explain why we now have a Morris Mule trailer with roof top tent, and a small, more conventional travel trailer.
Thank you for watching. We hope you'll subscribe to get the best Wobbly Otter adventures, how to's, and gear reviews delivered directly to you.
We will not get rid of George. George is awesome. George serves his purpose well of being our way to go any where, any time. We will be going many places with George in 2018.
The little camper trailer addition is a Starcraft AR-One Extreme 15RB. There's a lot we like about it. There are some things that we would definitely want to be different.
For the price, the AR-One Extreme that we named Bart, is a good option for us.
The reasons we got Bart are: (1) It makes it easy to take a dog with us, and (2) To extend trip taking possibilities in cold winter and hot summer.
We've camped in George in temperatures from 30 to 104 degrees F. Fortunately, the extremes on either end of that range were for a short time.
You may remember that we made a dog ramp so the dogs could get into and out of the roof top tent. The ramp works great and Viva especially loves using it. However, Viva (70 lb black mouth cur) likes to sleep sideways and this leaves very little room for Bill and I. So having her in the roof top tent with us doesn't seem to be feasible for this particular dog.
That said, when Viva went with us to Dinosaur Valley State Park in Bart, she did figure out that if she sleeps lengthways that we will let her stay in bed with us.
But I digress.
The roof top tent on the Morris Mule trailer is a wonderful setup for us and a joy to use. We are hopeful that the addition of the AR-One Extreme trailer will let us go more when the weather is less accommodating. We shall see.
If you'd like to support Wobbly Otter Outdoors all you have to do is watch our videos. Okay, here are some other ways to support us too.
Disclosure: Some of the product links on this page are affiliate links, and at no additional cost to you, we may earn a small commission if you make a purchase after clicking through the link. By using these links you help support Wobbly Otter Outdoors. Thank you.