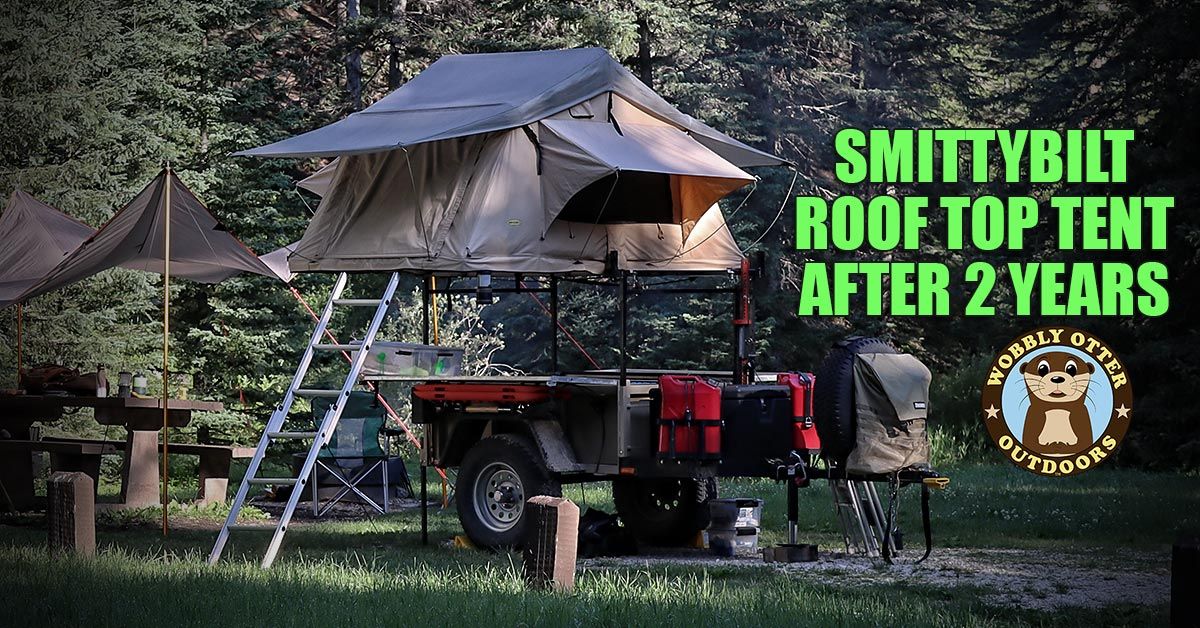 We've had the Smittybilt Overlander roof top tent for over 2 years now. It's traveled 20,000 miles and seen 80 nights of camping.
In this video (below), we show you the wear, and share care tips we've learned along the way along with our experiences in using the Smittybilt Overlander Roof Top Tent.
Thank you for watching. We hope you'll subscribe to get the best Wobbly Otter adventures, how to's, and gear reviews delivered directly to you.
Topics Covered In The Video Include
Our simple and inexpensive solution to stop the outer travel cover straps from coming loose during highway speeds and high wind. Binder Clips - yes, really.
What we recommend you check before and after every trip. It's important so that your tent doesn't fall off your vehicle/trailer.
Review of how the seam seal tape is holding up. It's coming loose in a few spots inside; mostly near the top in areas near the support poles.
Its performance in a Nebraska thunderstorm with rain and 50 mph winds. It did great! It is so very loud inside the tent in high winds.
A look at the original mattress and our thoughts on how to stay comfy.
The products we use to help keep the inside of the tent clean and dry. We consistently use these items shown in the video on every trip. The canvas drop cloths to keep the mattress clean and dry, as well as the dehydration packs are easy and inexpensive solutions.
How much airflow is blocked by the screens. In a word, a lot. Oh wait, that's two words.
Updates on the condition of the overall tent material, travel cover, poles that hold the awnings over the windows and doors, compression straps, and the bungees that hold the sides of the tent in during folding.
Some differences between this tent and others of a similar size.
Products We Use & Recommend
Below are pictures, prices and links to the items we use and that are mentioned in this video.
The Smittybilt Overlander Roof Top Tent & Dehumidifier Packs
If you haven't ever used or seen a roof top tent in person, though you want to give it a try and see how you like camping with a roof top tent, the Smittybilt Overlander is a good place to start. It costs close to half as much as the least expensive tents of many of the other popular brands. We use the dehumidifier packs religiously on every trip. Knock on wood, we have not had musty smells or any other issues that moisture inside a stored tent can cause.
The Binder Clips and Drop Cloth
The binder clips are an amazingly simple, effective and inexpensive way to help the velcro work to hold the travel cover straps. The drop cloths get softer after every wash and are a nice thick protective cover for the mattress. We take two with us on each trip (unless I forget to pack the extra one). That way if the one in the tent gets really grubby or wet, we have a spare to replace it.
Klymit Sleeping Pad and Roll Top Pump
The Klymit sleeping pads have worked well for us not only in the roof top tent, but also when we go camping in a regular ground tent. The roll-top pump is wonderful for filling the sleeping pads without becoming dizzy and without putting a lot of breath moisture into them.
If you'd like to support Wobbly Otter Outdoors all you have to do is watch our videos. Okay, here are some other ways to support us too.
Note: Some of the product links on this page are affiliate links, and at no additional cost to you, we may earn a small commission if you make a purchase after clicking through the link. As an Amazon Associate we earn from qualifying purchases. By using these links you help support Wobbly Otter Outdoors. Thank you.