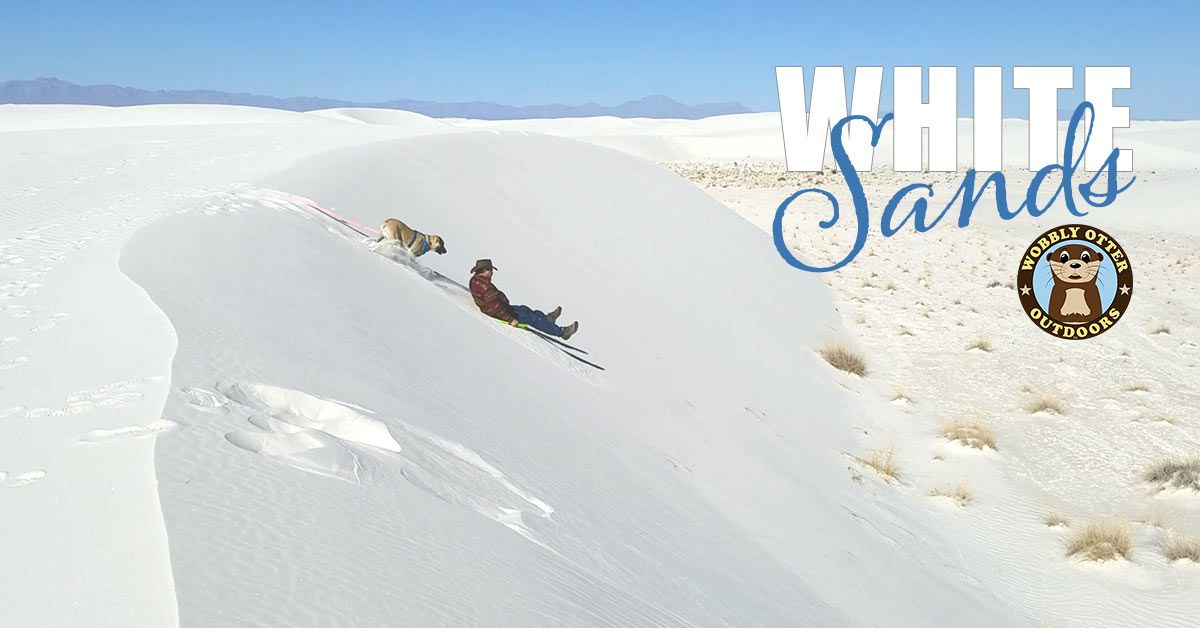 It's a beautiful January day. The sand is cool. The sun is warm. White Sands National Monument is a dog-friendly park, so pup, Viva, gets to explore with us.
The highlights of our visit to White Sands National Monument are in the video below - with peppy music too!
Thank you for watching. We hope you'll subscribe to get the best Wobbly Otter adventures, how to's, and gear reviews delivered directly to you.
The white sand dunes of gypsum cover 275 square miles of the Tularosa Basin of New Mexico. White Sands National Monument preserves a major portion of this fascinating dune-field.
Maps are available in the Visitor Center that is near the entrance of the park. Sleds and sled wax are found in the adjoining Gift Shop and may be sold back for the partial purchase price.
We drive all the way to the back of the park looking for the tallest and steepest dunes to sled and to explore. The park is so large that it doesn't take long to find dunes that don't have any footprints.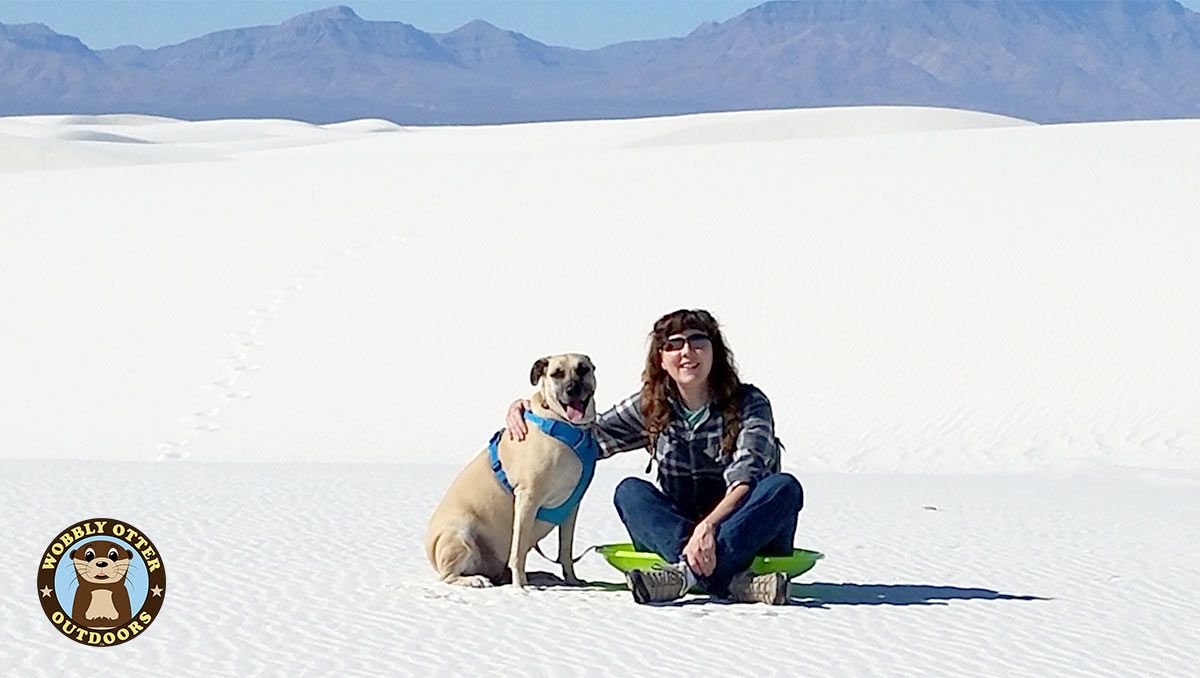 Bill and I sled down the dunes. Viva gets in on the act too, running near Bill as he slides down the dune. She jumps about with glee when they make it to the bottom.
Following the trail markers, we work our way back to the pickup.
Bill wonders if it would be easier to put our gear in the sled and pull it. If only we had some rope. Well, I just happen to have a paracord bracelet in my pack. Oh, and a carabiner too.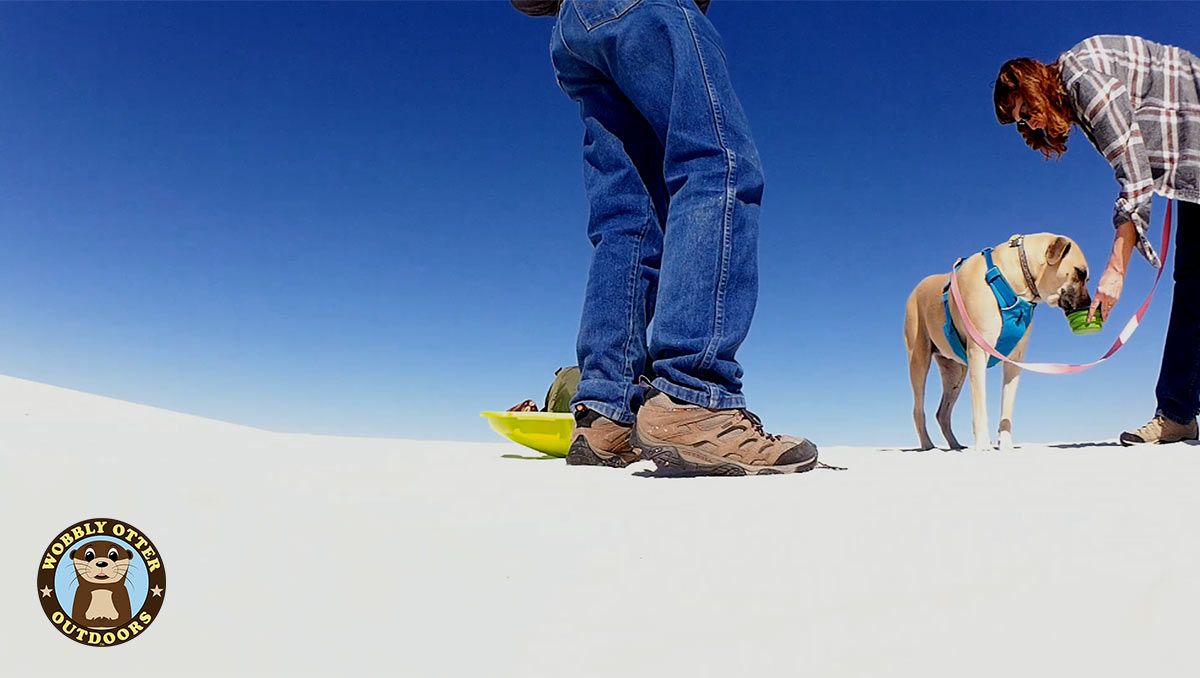 Bill unwinds one side of the paracord bracelet and fashions loops on the ends. I pour water for Viva into her travel bowl that I keep in my hiking pack.
In the midst of this, Viva starts to grrr at hiker who is walking toward us. She quietly goes over to check him out as he arrives beside us. The hiker handles the situation perfectly - and kindly. I tell him that, "She's sweet. She's just getting used to people." He wittily replies, "So am I." Everyone chuckles and he continues on his way. Viva is happy because he pet her.
Pulling the gear in the sled works well. Bill notes that my pack is heavy. Well, yah-ahhh.
Viva looks out the pickup window almost wistfully as we drive out of the park. A good time was had by all.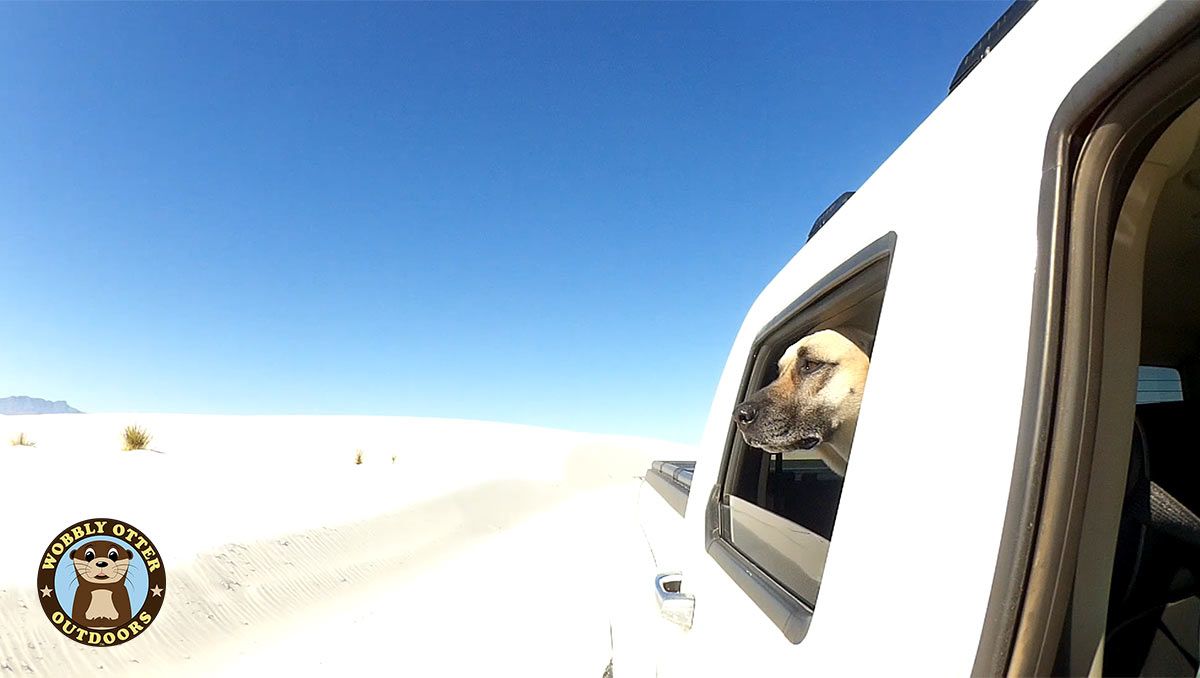 If you'd like to support Wobbly Otter Outdoors all you have to do is watch our videos. Okay, here are some other ways to support us too.
Some Gear We Use
Below are links to a couple of the items we used on this trip. First is the little collapsible dog bowl. I LOVE this thing. It's light, a nice size and easy to pack. It lives in my hiking pack. The second item is the hiking backpack itself. While mine is green, the only color I see available on Amazon currently, is black. Some features of the pack are that it is designed to make it hard to steal, it has a special compartment to carry camera equipment that is VERY well padded, and it has a raincover on the bottom that can be pulled up over the pack in bad weather. I love its size and all the compartments it has.
Disclosure: Some of the product links on this page are affiliate links, and at no additional cost to you, we may earn a small commission if you make a purchase after clicking through the link. By using these links you help support Wobbly Otter Outdoors. Thank you.