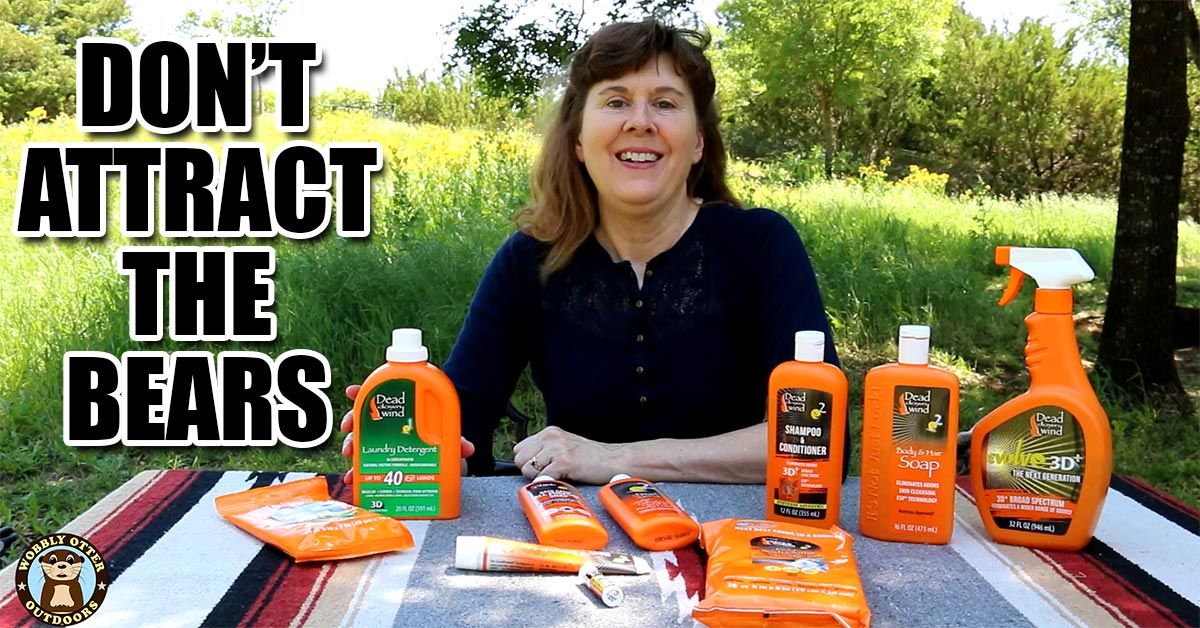 During our trip to the Pacific Northwest, there were times we would be camping in bear country. We didn't want our scent, shampoos, soaps, etc. to attract bears and that's when we found the Dead Down Wind products.
These products remove the scents that may draw the attention of wildlife. In this video we look at several of the products and share our thoughts.
Thank you for watching. We hope you'll subscribe to get the best Wobbly Otter adventures, how to's, and gear reviews delivered directly to you.
Note: This is NOT a paid or sponsored endorsement. We purchased these products ourselves.
There have long been scents for hunters to use to mask or overpower their own natural human scents. The Dead Down Wind line of products is designed to remove smells altogether. Dead Down Wind is based in Missouri, USA.
Dead Down Wind breaks their product line into three groups.
Laundry
Personal Hygiene
Field Application
The following are the Dead Down Wind products we find ourselves using most often. (Since making the video and going on subsequent trips, the number of products we use consistently has increased a smidge.)
Shampoo & Conditioner
The shampoo and conditioner is a favorite of ours. We occassionally buy it for everyday use at home. It does a good job of cleaning and moisturizing hair.
Lip Balm
The lip balm is SPF 30. I keep this in my purse. It is in a twist push-out/-in lipstick style package. The lip balm goes on smoothly and easily. I like the SPF 30 especially for when we are hiking and in the desert for that extra protection against the sun and the very dry air.
Field Wash Cloths
When camping and hiking water can be at a premium and clean water may not be readily available. That's when these Field Wash Cloths come in handy.
The wash cloths come in a pack of 20 with a resealable closure. Each wash cloth is 8" x 8" (20 cm x 20 cm) and are nicely moist. They aren't drippy wet. They are soft and a little thick with a slight bit of texture on one side.
Laundry Detergent
The laundry detergent is formulated for HE washing machines. It works by using enzymes and chelating agents that remove odors. The documentation says it can even remove blood stains.
We used the laundry detergent to wash the clothes we took with us on our trip. We also took the bottle with us and used it to wash clothes while on our trip.
Dryer Sheets
The dryer sheets come in a resealable soft pouch and are also enzyme preventative, as well as providing anti-static control. The dryer sheets are moist.
The Only Issue - Breaking Bottle Caps
The only issue we have experienced with the Dead Down Wind products is the screw-top cap on two different bottles. We must have over-tightened the top of the bottles when putting on their cap. The very top of one bottle broke off completely, the other one cracked badly.
Links to Dead Down Wind Products We Have Used
Following are all the Dead Down Wind products we have used along with links to them on Amazon so you may also read the reviews there.
Laundry detergent (20 oz): https://amzn.to/2rDi07g
Dryer Sheets: https://amzn.to/2wDQKLG
Shampoo & Conditioner (12 oz): https://amzn.to/2IasSob
Field Wash Cloths: https://amzn.to/2IfcK52
Base Camp All Purpose Soap (8 oz): https://amzn.to/2IfRY10
Body & Hair Soap (16 oz): https://amzn.to/2rDCE75
Moisturizing Lip Balm: https://amzn.to/2Khl806
Field Spray (32 oz): https://amzn.to/2jQo3BR
Hand & Body Lotion (8 oz): https://amzn.to/2wyutPf
Toothpaste: https://amzn.to/2rEYYOD
(The toothpaste surprised me on first use because of its minty taste.)
If you'd like to support Wobbly Otter Outdoors all you have to do is watch our videos. Okay, here are some other ways to support us too.
Disclosure: Some of the product links above are affiliate links, and at no additional cost to you, we may earn a small commission if you make a purchase after clicking through the link. By using these links you help support Wobbly Otter Outdoors. Thank you.