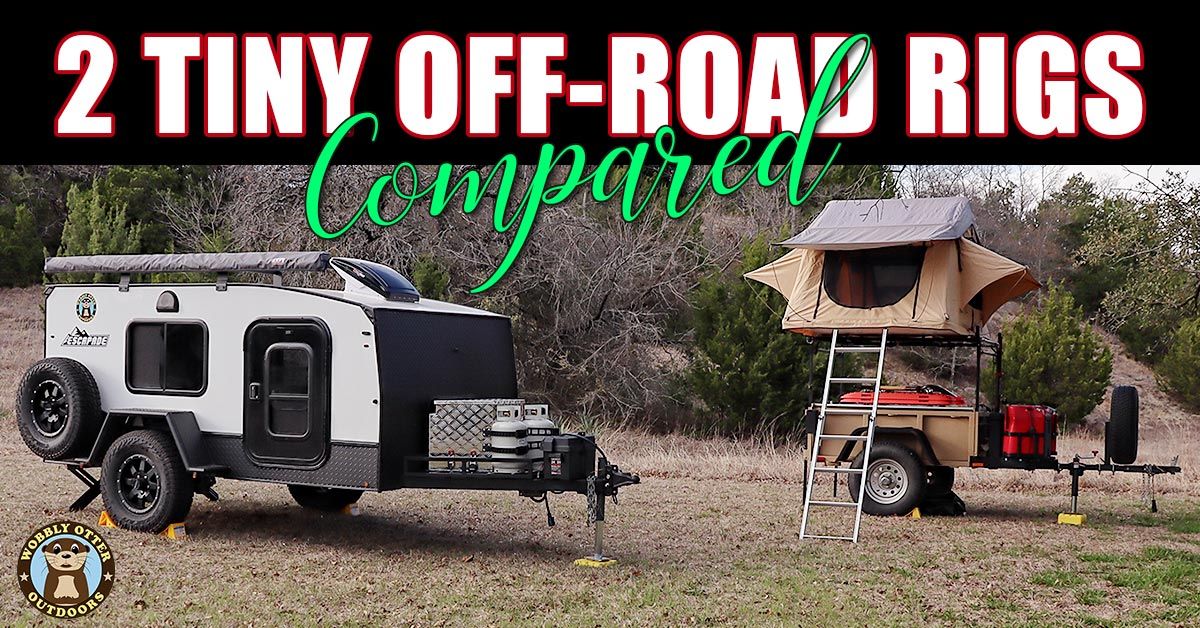 We're comparing two different types of small off-road trailer rigs on ten criteria, to help folks who are trying to decide which type of rig is best for them.
Meet the Rigs
Morris Mule trailer (that we call George) with a Smittybilt Overlander roof top tent
Escapade Backcountry camper (that we call Poe)
The 10 Comparison Criteria
Set-up time
Security - feeling safe
Visibility - looking out from the inside of the sleeping area
Ventilation
Storage capacity
Seasons of use
Off-road capability
Ease of towing
Storing when not in use
Sleeping comfort & sleeping area size
Some Rig Size & Weight Specs
Poe - Escapade Backcountry with All-Terrain Package
14.8' long (hitch to back)
width: 7.25'
weight: 1,100 lbs
George - Morris Mule Trailer with Smittybilt Roof Top Tent
length: 11' (hitch to back)
width: 64.75"
Morris Mule trailer weight: 685 lbs
Smittybilt roof top tent weight: 120 lbs
In hopes the videos will be a more pleasant viewing length, the comparison is broken into two videos... Part 1 & Part 2 (so original)
1. Set-Up Time
Setting up the Morris Mule trailer involves dropping the stabilizer bars on the trailer and opening the roof top tent. The roof top tent setup takes about five minutes once you've got the routine down.
For the Escapade Backcountry set up could be much easier. You pull in, drop the stabilizer jacks and you're done. If there are electricity hookups available, then there is a short bit of time to plug in your extension cord.
2. Security - Feeling Safe
There are lots of ways to secure and lock cargo inside of, and on, the Morris Mule trailer. A roof top tent is not lockable.
In addition to being able to secure and lock gear on the outside of the Escapade Backcountry camper, it's doors also have locks. The Backcountry has two cabin doors and one large rear galley door. All three doors have both latch locks as well as bolt locks. The windows have toggle locks. The small front hatch door for the air conditioner also has a lock.
3. Visibility from the Inside Looking Out
The Backcountry has 4 windows, two on each side, The windows are a nice size, so we can see a lot out of the two sides. Some teardrop campers also have the option of a window on the front. That allows you to look out of 3 sides.
The roof top tent is open on 5 sides - yes 5. There is a large window on each side, a large door on each end and two nice size windows in the ceiling of the tent. Plus, the tent is on top of a trailer so you have the added bonus of being up in the air a bit which helps with visibility. It's like being in a tree house. When we initially considered getting a roof top tent, it never occurred to me how amazing the views from it would be. It's awesome! There have been quite a few times where we have had the opportunity to watch wild animals from the RTT because we were in the tree tops and hidden from view. The windows in the top afford you the opportunity to look out the top as well... as long as you take off the rain fly. You can stand up through the top windows to look around, or you can chillax in bed and enjoy star-gazing at night.
4. Ventilation
There are four windows, two in each side, of the Backcountry teardrop camper. On each side there is one large 30"-wide widow with screen, and also a window with screen in each door. These windows allow for nice flow-through ventilation. The screens of each window can also be opened to allow even more air flow. That is, if there aren't any creepy crawlies around that you need to keep out by keeping the screens in place. In the ceiling is a 10-speed MaxxFan that runs off the 12-volt battery. [Maxxair model #6200K] The fan can be set to either blow air into, or out of the camper. The fan also has an auto setting whereby it turns on when the temperature reaches that temperature or higher, and turns off when the temperature is below the one set. It's an amazing fan and is incredibly good at circulating air both for temperature and humidity regulation.
The Smittybilt Overlander roof top tent maximizes air flow - it shines when it comes to ventilation. It has two large doors with screens - one on either end (the ladder is only on one end). There are large windows on each side, which both have screens. In the ceiling there are two large windows with screens as well. These are nice for ventilation and can also come in handy when taking off or putting on the rainfly.
5. Storage Capacity
Trailers of both of these types often come with some sort of gargo rack on the front - on the trailer tongue. The trailers also frequently come with any number of different types of doored gargo areas or slides for stowing a variety of gear. Roof racks are another popular feature of these trailers.
Cargo Space - Roughly
Poe galley (64" x 45" x 20"): 33 cubic feet
Poe inside cabinet and shelves: 15 cubic feet
Poe tongue cargo deck: 45" x 29" x 20"
George inside (38.5" x 59" x 18"): 23.6 cubic feet
George tongue cargo deck: 43" x 25"
Thank you for watching. We hope you'll subscribe to get the best Wobbly Otter adventures, how to's, and gear reviews delivered directly to you.
6. Seasons of Use
Seasons of use depends a lot on the part of the planet where you go exploring - as well as what conditions you find comfortable. There may be times you may need a heater, and there may be times you need an air conditioner. These are things to consider when deciding what type of trailer is the best fit for you.
The benefits of a camper like the Escapade Backcountry are it has hard-sides which offer greater protection during storms than do the fabric sides of a roof top tent. During high winds, the tent walls and the rainfly slap against each other as well as the interior metal frame of the tent. It gets really LOUD.
Air conditioning units and heaters of a few different types may be available options on trailers with an interior sleep cabin. Wobbly Otter is based in Texas and it takes the better part of a day to drive to higher elevations. When we go anywhere in July or August, the day-time highs are often 100+ F, so, for us, an air conditioner is a must during those months.
When it's rainy, roof top tents like the Smittybilt Overlander have an advantage because the awnings over the side windows, and the rainfly over the doors, blocks rain water from entering the tent. During times of rain in a hard-sided camper, the rain water can run down the sides from the roof and into an open window. This is true even if an awning is deployed on the camper, because the water is coming from the roof and running down the sides, so the awning isn't blocking it. There are after-market gutters to help address this issue. We plan on purchasing and installing them on our Backcountry.
7. Off-Road Capability
What kind of places are you going to go? What kind of road conditions might you encounter? Do you even need an off-road capable trailer?
The benefits of all-terrain tires on a trailer are to help keep from getting tread or sidewall damage and flats. When you are off the beaten path and in a remote area, you need gear that is up to the task.
Things to keep in mind for off-road capability of a trailer.
ground clearance
exit angle
suspension
sometimes the trailer width - for narrow roads/trails
Although these trailers are both quite short, a challenge for any trailer is going to be very tight turns.
These items can vary widely, so here are the specs for these two trailers to use as talking points.
Poe - Escapade Backcountry with All-Terrain Package
16-17" frame clearance
3,500 lb. Timbren axle-less suspension
14.8' long (hitch to back)
width: 7.25'
weight: 1,100 lbs
George - Morris Mule Trailer with Smittybilt Roof Top Tent
16" ground clearance to bottom of axle
Axle: Dexter Torflex Torsion
19-20" frame clearance
length: 11' (hitch to back)
width: 64.75"
Morris Mule trailer weight: 685 lbs
Smittybilt roof top tent weight: 120 lbs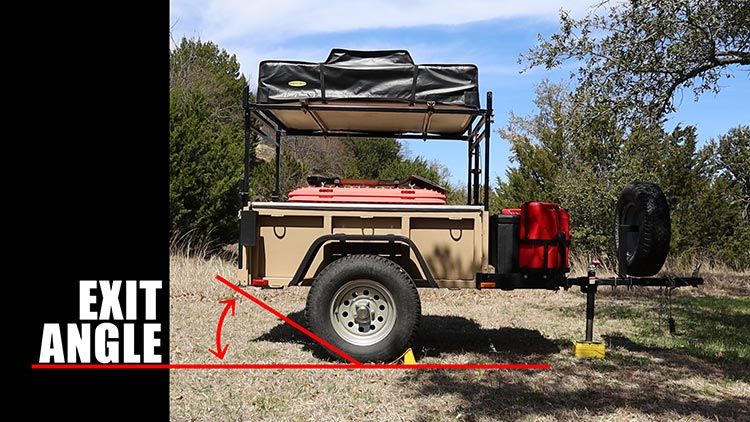 Exit Angle - or Angle of Departure...The angle between the ground and a line running from the rear tire to the lowest trailer-part that's behind it. Some off-road trailers are designed so that their back bottom corner is essentially removed. This further improves their exit angle.
The little Morris Mule can go anywhere our truck can go. It's narrow, has good ground clearance, and there isn't much trailer length behind the tires... It has a large exit angle.
The achilles heel of the Escapade Backcounty that we have, is that it has a narrow angle of exit and so it will be prone to drag when going over dipsy-doodles, aka moguls, aka rises and dips.
8. Towing Ease
How much weight can your tow vehicle pull? How much does your trailer weigh and how much additional weight in gear are you taking? How well can you see around, over or through the trailer you are towing?
George has a Dexter Torflex Torsion axle and George is about half the weight of Poe when fully loaded. When George hits a bump, he bounces. If ever a little trailer could express glee, it's George with his bounce. We've become fond of the bounce, but it can be hard on the cargo, depending on road conditions and the durability of the cargo itself. Even though there is a lot of open space above the Morris Mule cargo box and below the RTT, when pulling through a cross-wind, the wind pushes the trailer around a good bit.
Poe, the Backcountry camper, is an absolute dream to pull. We aren't sure exactly why, so here are our thoughts. The Backcountry doesn't catch much wind. It doesn't look especially aerodynamic, but it sure pulls like it is. The combination of Poe's weight with the Timbren axle-less suspension seems to be a good combination for keeping the tires connected with the road surface.
9. Storing When Not in Use
Protecting your trailer from the elements is a good idea. Sun exposure, extreme heat or cold and hail damage are all concerns.
A tarp or trailer cover are a good options. Many small trailers will fit inside a garage through a standard garage door which is 96" wide x 84" tall. The thing you really have to watch is the height of the trailer to be sure it will fit through the door. This is especially true if it has a roof top tent, cargo box or something on top.
We store both of our trailers in an enclosed barn.
10. Sleep Area Comfort & Size
You want to be sure there is plenty of room for the family to sleep, including pets. For many, being able to stand up inside the sleep area is important and can be a deciding factor when choosing a camper.
Here are the sleep area specs for the Smittybilt Overlander roof top tent shown in the video.
floor: 94" long x 56" wide (239 x 142 cm)
center height (with 2" mattress): 44" (112 cm)
Most RTTs come with a mattress that is anywhere from 2 to 3 inches thick. Ours is 2 inches thick. You can replace the mattress with one that is more thick and comfortable. Just be sure that the tent can still easily fold closed with the mattress you choose.
Here are the sleep area specs for the Escapade Backcountry shown in the video.
floor dimensions: 84" long x 64" wide (213 x 163 cm)
interior height (with 4" mattress): 40" (102 cm)
Many teardrop size campers accommodate a queen size mattress. The benefit of an inside sleeping cabin is that you can choose any mattress you want, so long as it fits the space. And as long as you can physically get it inside the cabin. We chose a 4" foldable mattress to make it easy to get through the doors, and also because it can fold up for use as a couch.
Bonus Notes
Durability: For durability, we can only speak to the Morris Mule because we haven't had the Escapade very long. The Morris Mule trailer has traveled 20,000 miles with us and a good bit of that has been off-pavement. The Morris Mule is all metal and built like a tank. Nothing has broken on the Mule.
Price: Price comes down to finding a balance between your budget and the features that you want. There are quite a few off-road trailers on the market now, which makes it more likely that you will find the one that is a good fit for you.
Morris Mule Trailer Rig - Products & Gear
Smittybilt Overlander Roof Top Tent: https://amzn.to/2UUyZzc
Smittybilt jerry can holders: https://amzn.to/2WkeTif
Hi-Lift Jack: https://amzn.to/2HXkzv6
Hi-Lift Jack Mate: https://amzn.to/2vSWIrp
Trailer deck box: https://amzn.to/2HWG9Qk
X-Bull Recovery Boards: https://amzn.to/2KlUWCy
Herculiner: https://amzn.to/2KnKFG2
Our blog article about how the jerry cans are mounted (Bill's custom brackets): https://www.wobblyotteroutdoors.com/blog/85-jerry-can-mounts-on-morris-mule-trailer.html
Escapade Backcountry Products & Gear
Aluminum Diamond Plate Storage/Tool Box with locking latch: https://amzn.to/2FZ3dwx
Zinc-plated Steel Latchs (part number: AC055) (pkg of 2): https://amzn.to/2WkKHnX
XL Quick Fist Clamp for equipment up to 15" in diameter; pack of 2: https://amzn.to/2tbyDrD
Folding Queen-Size Mattress (4" thick): https://amzn.to/2O99LdN
If you'd like to support Wobbly Otter Outdoors all you have to do is watch our videos. Okay, here are some other ways to support us too.
Note: Some of the product links on this page are affiliate links, and at no additional cost to you, we may earn a small commission if you make a purchase after clicking through the link. As an Amazon Associate we earn from qualifying purchases. By using these links you help support Wobbly Otter Outdoors. Thank you.